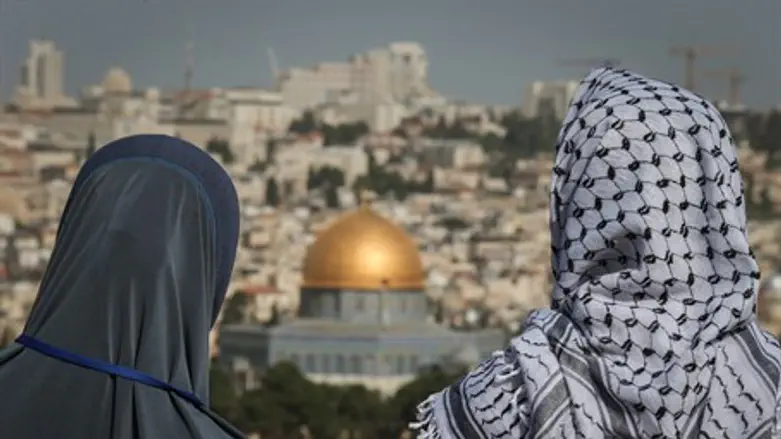 Arabs view Temple Mount (illustration)
Nati Shohat/Flash 90
Israel has rejected a Jordanian initiative to return full control of the Temple Mount to the Jordanian Waqf Muslim Authority, Walla! News reports Monday. 
The Jordanian Waqf already rules the Temple Mount with an iron fist, banning Jewish prayer there - despite the Mount being Judaism's holiest site. 
However, the Jordanian palace recently made Prime Minister Binyamin Netanyahu an offer would have scaled Israeli control back even further - placing the Mount under full Jordanian control, until Ariel Sharon visited the site in 2000.
Until 2000, the Jordanian government - not Israel - decided who would visit the Temple Mount and when. Following the outbreak of the Second Intifada, rule over the Mount remained unclear from 2000-2003; from 2003, Israel was given partial control over non-Muslim visitors. 
While Jewish visitors occasionally may ascend the Mount today, the decision to switch back to the pre-2000 practice could have seen Jewish visits banned entirely. 
Netanyahu rejected the demand and demanded to visit with Jordanian King Abdullah II in return, senior officials told the daily, but Abdullah has refused to meet with the Prime Minister. 
Rumors over various changes to the status quo regarding the Temple Mount have been swirling since the outbreak of rioting last month, and the subsequent terror wave which followed. 
Earlier Monday, a Kuwaiti paper claimed that the Palestinian Authority (PA) proposed placing PA security forces on the Mount in civilian clothing. 
Last week, Israel firmly rejected a French proposal to the UN Security Council calling to have international observers stationed at the Temple Mount.