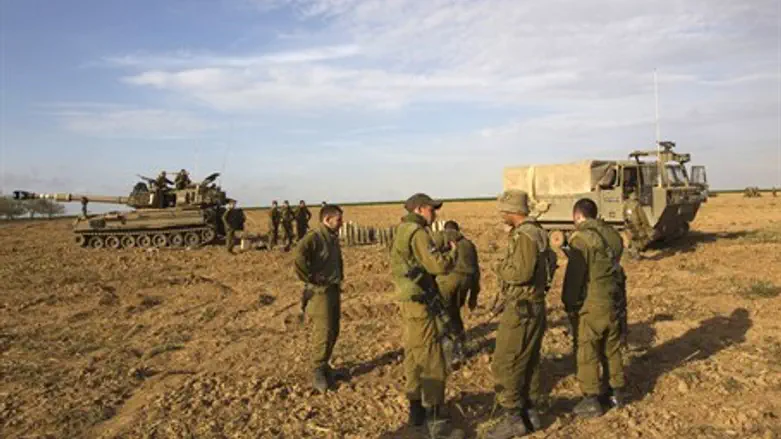 Soldiers on Gaza border (file)
Israel news photo: Flash 90
IDF soldiers patrolling the border fence with Gaza came under terrorist gunfire on Friday afternoon, in an attack that took place at the border in the central area of Gaza.
No one was wounded in the gunfire, which took place across the border from the Bureij "refugee camp," not far from the Israeli town of Kissufim.
Bullet damage was located on the windshield of an IDF bulldozer that was stationed over the border for engineering work, indicating an apparent Gaza sniper attack.
The attack comes the same Friday that both Hamas and Palestinian Authority (PA) Chairman Mahmoud Abbas's Fatah faction declared as a"Day of Rage."
It was reported this week that Israel is intending to speed up plans to build a massive fence along the border with Gaza, similar to the one existing along the Israeli-Egyptian border.
The move comes after several recent attempts to breach the border fence; last Saturday night, at least 40 Gazans broke through the border fence amid rioting on the Gaza side, in a very palpable security threat.
They made it several meters into Israeli territory near the Kissufim kibbutz, before being repelled by IDF forces. Several Gazans were arrested in the incident. 
Three Arab rioters were killed and 17 more wounded in an attempted border breach last Friday when soldiers responded to youths throwing rocks and other projectiles at them.
In response to the attempted infiltrations, the heads of four regional councils in the Gaza Belt region called on both the Defense Minister and the Prime Minister to immediately advance stalled plans to build a barricade the entire length of the Gaza border.