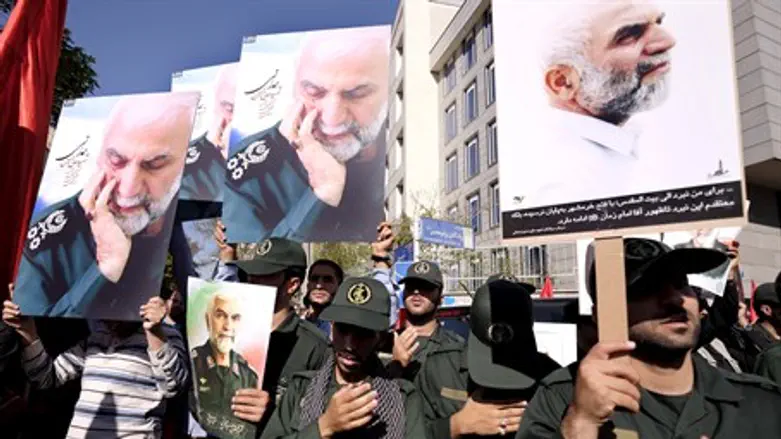 Funeral of Iranian Major General Qassem Soleimani
Reuters
Iran's Revolutionary Guards confirmed Wednesday that two of its senior officers have been killed in Syria, just days after the death of a general from the elite unit.  
The Guards website announced the death of colonels Farshad Hasounizadeh and Hamid Mukhtarband, who "were martyred in recent days while advising and helping the Syrian resistance army."
The commanders' bodies would be buried in Khouzestan province, southern Iran, it said.  
On Tuesday, an Iranian state television reporter working in Syria announced on Instagram the deaths of both men, whom he said were killed Monday, identifying Hasounizadeh as a brigadier general.
Colonel Mukhtarband was formerly a brigade commander in the southern Iranian city of Ahvaz.
The news comes the same week the Guards announced their highest-profile casualty in the effort to shore up President Bashar al-Assad.
General Hossein Hamedani, who had undertaken 80 missions in Syria according to a eulogy at his funeral in Iran, was killed in the key battleground city of Aleppo.
Shiite-dominated Iran is Assad's strongest regional ally, sending military advisers and front line troops from the Guards and other forces to help him against Sunni Muslim rebels seeking his overthrow.
Lebanon's Shia-Islamist terrorist group Hezbollah has done much of the fighting to prop up the Syrian army.
The commander of the Revolutionary Guards' foreign wing, Major General Qassem Soleimani, is said to be heavily involved in guiding military strategy.
AFP contributed to this report.