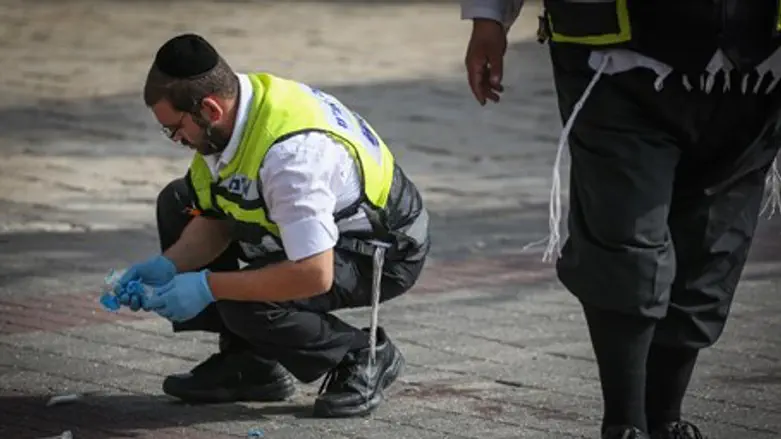 Medics at stabbing site (file)
Hadas Parush/Flash 90
Four people have been injured in a second stabbing attack in the central city of Ra'anana, shortly after a previous stabbing attack on Tuesday morning.
In the second stabbing of the day in the city, which took place on the corner of Yerushalayim Street and Ahuza Street, three passersby were lightly wounded and a fourth victim was seriously wounded.
The terrorist was apprehended by civilians and later arrested by police.
In the first stabbing, which took place just before 9 a.m., a 22-year-old terrorist from eastern Jerusalem stabbed a 32-year-old man who was waiting at a bus stop, lightly wounding him.
The terrorist was subdued by civilians and later apprehended by police in serious condition.
Police then launched a manhunt after the apparent accomplice of the terrorist, who drove him to the scene of the attack and then fled.
According to an eyewitness, the accomplice was wearing a green shirt, blue jeans, and had a purple bag.
It is not yet clear if the second stabbing was carried out by that man.
Just before the second Ra'anana attack, two attacks took place in Jerusalem leaving one dead and at least 17 wounded. In one attack a terrorist opened fire on a bus in the Armon Hanatziv neighborhood in the southeast of the capital, and in another a terrorist launched a car attack in Malchei Yisrael Street, in Meah Shearim.