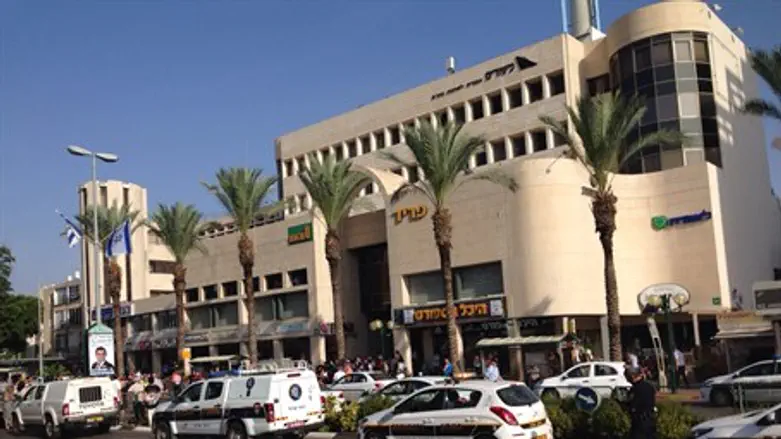 Scene of Raanana stabbing attack
Arthur Finkelstein
An Arab terrorist launched a stabbing attack in the central city of Ra'anana not far from Tel Aviv on Tuesday morning, leaving a 32-year-old man lightly wounded.
The attack took place along the city's busy Ahuza Street. The terrorist was quickly overcome and beaten by passersby; police who arrived at the scene prevented the angry mob from killing him, and he was hospitalized in serious condition.
Magen David Adom (MDA) medical teams provided treatment to the 32-year-old victim before evacuating him to Meir Hospital in Kfar Saba. He suffered stab wounds to his upper body.
Video of the aftermath of the attack, showing the terrorist lying wounded on the ground at a bus station, can be viewed below. Viewer discretion is advised.
An initial investigation by the police revealed that the terrorist, a 22-year-old resident of eastern Jerusalem, reached the bus station with the help of an accomplice, and immediately stabbed a man who was waiting at the station.
Civilians who were at the scene gained control over him until police forces arrived and neutralized him. The terrorist was evacuated to receive medical treatment.
Police have also arrested the terrorist's accomplice as he was trying to leave the area, Walla! news reports.
The attack is the latest in an ever growing wave of Arab terrorism, that has largely been centered in Jerusalem but also has targeted the coastal district.
Just yesterday on Monday night, a female Arab terrorist was thwarted while attempting to launch a stabbing attack in Tel Aviv.
Her attempt came after a successful attack last Thursday, in which an Arab terrorist who was working at a local construction site stabbed and wounded five Israelis with a screwdriver.
He tried to steal a gun from a female soldier before being shot by a soldier who happened to be on the scene.