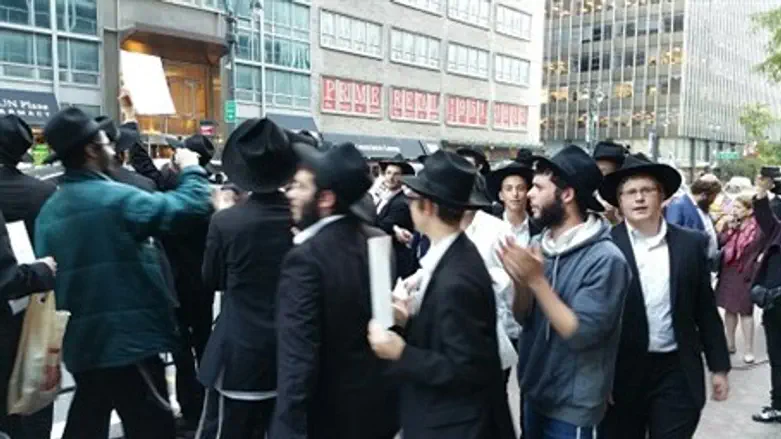 Chabad-AFSI protest in NYC
Mark Langfan
In the face of the terror war being perpetrated against Israeli Jews, hundreds of Chabad Lubavitch Jews and a contingent from Americans for a Safe Israel (AFSI) demonstrated in front of the Israeli UN Embassy in New York City Thursday.
Showing solidarity with their Jewish brethren in Israel, the protesters carried placards that read "Jewish Lives Matter."
The Chabad flyers stated "Send the message: the Israeli Government must respond to 36+ terror attacks in 3 days," and, "We can not remain silent." Supporters were directed to #JEWISHBLOODISNOTCHEAP on Twitter.
The numerous speakers included New York Assemblyman Dov Hikind, and Judy Kadish and Helen Freedman, Co-Executive Directors of AFSI.
"The demonstration was an attempt to strengthen the resolve to live and settle the Land of Israel, and to encourage Prime Minister (Binyamin) Netanyahu and his government not to buckle under the intense international pressures now being orchestrated by the Obama Administration, the EU and the UN," Freedman stated.
The organizers of the rally also served as prime speakers. Yisroel Hershkop served as the energetic MC and introduced the line-up.
Hikind was the keynote speaker, addressing the crowd with his usual fiery and passionate words. He denounced the reign of Arab terror now racing through Israel and called for stricter government controls. Tamar Adelstein of Chabadlife.tv continued with that theme, as did Yossi Rapp, Saadia Hershkop, Jeremy Deri.
Freedman, the last speaker, reminded the crowd that AFSI has been conducting semi-annual trips to the threatened areas of Israel for the past twenty years, and will be going again this November 4-11.
Echoing the Israeli strength and determination to establish sovereignty in Judea and Samaria, thus holding onto the Biblical heritage, she asserted that despite the escalating tensions AFSI's "trip is proceeding," and invited others to join them. The rally ended with the enthusiastic singing of Am Yisrael Chai.
Co-Organizer Dov Hikind
credit: Mark Langfan
Co-organizer Yisroel Hershkop
credit: Mark Langfan