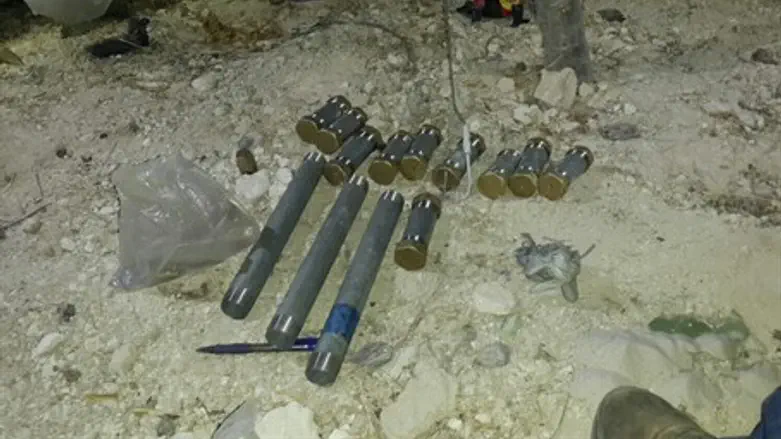 Pipe bombs
Israel Police Spokesperson's Unit
Three Arabs were arrested in a joint operation by the Israel Police and the Israel Security Agency (ISA or Shin Bet), it was cleared for publication Friday, for preparing a weapons cache to use against security forces on the Temple Mount. 
The Jerusalem District Attorney filed an indictment against the three - two adults and one minor from the eastern Jerusalem neighborhood of Jabel Mukaber - in the Jerusalem Magistrate's Court. 
The accused acted together to make tube-type explosives to hurl at security forces over the High Holidays in light of Palestinian Authority (PA) incitement over the Temple Mount, the indictment states.
Two adults purchased equipment and explosives for the cache from PA controlled territories, and transported them to the minor's home, where he would assemble the bombs. Security forces found some 13 pipe bombs in his home. 
The ISA and the Israel Police carried out the raid on the three last month, finding ten of the pipe bombs in the minor's home in the middle of the night in the days before Rosh Hashanah. The minor, who was not home, was arrested several hours later. 
Three additional bombs were found on the Temple Mount itself during rioting on Rosh Hashanah eve. 
Jerusalem District Police Chief Moshe Edri praised the operation. 
"Successful cooperation between the ISA and the Jerusalem police, alongside professional investigation and determination, led to the seizure of explosives and prevented serious injuries to our security forces," he said. 
"The Jerusalem police will continue to act decisively in terms of intelligence, investigations, and operations against those engaged in life-threatening terrorism and will work to prosecute them to the full extent of the law."