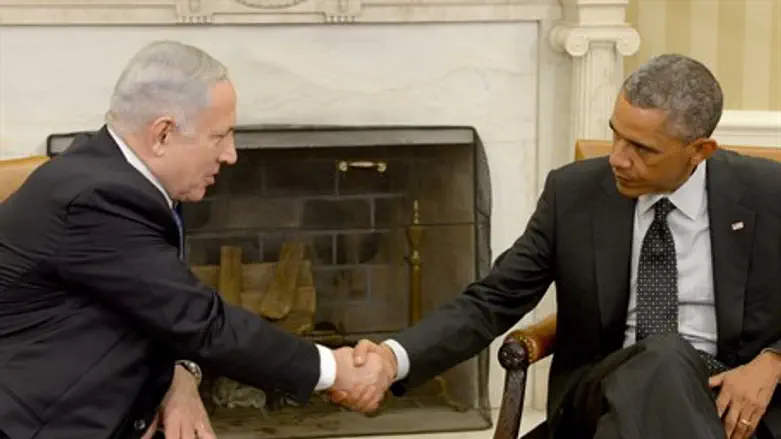 Netanyahu and Obama
Avi Ohayon
The administration of US President Barack Obama has denied reports in Israeli media Tuesday, according to which Obama threatened Prime Minister Binyamin Netanyahu against lifting the unprecedented building freeze in eastern Jerusalem, Judea and Samaria.
Channel 2 reported on Tuesday night that Netanyahu folded to pressure from Obama, who threatened that if Israel approved new construction following the wave of Arab terror attacks, the US would not veto a looming UN Security Council resolution that would establish "Palestine" and declare "settlements" in Judea-Samaria illegal.
During the daily press briefing of the US State Department on Tuesday night, a journalist asked spokesperson Mark Toner about the Channel 2 report.
"I'm aware of reports such as these, and I can say that they are false," claimed Toner. "Our position on the issue of settlement is known to Israel, and while we don't reveal private conversations, I want to nip this story in the bud. No sort of ultimatum was issued."
Toner also praised Israel's actions in trying to calm tensions on the Temple Mount - the holiest site in Judaism where Arab rioters have repeatedly attacked police - and said the actions match America's desire to return the status quo to the region. Netanyahu has repeatedly called to maintain the status quo, by which the Jordanian Waqf that holds de facto rule of the site bans Jewish prayer.
Despite Toner's claims, Judea and Samaria regional heads who met with Netanyahu on Tuesday night say he refused their demands to renew building, directly referencing international pressure.
The report of Obama's threat comes just a week after a report in Politico that revealed Obama twice refused to veto a UN resolution establishing a Palestinian state.
According to the report, Democratic Senate Minority Leader Harry Reid asked White House chief of staff Denis McDonough twice this year to have Obama publicly announce he would veto a UN Security Council call establishing "Palestine." On both occasions, Obama flatly ignored the request.
Regarding Israeli construction in Judea and Samaria, the 2012 Levy Report proved Israel's presence in the Biblical heartland of Judea and Samaria is completely legal according to international law. Despite being commissioned by Netanyahu, the coalition government has yet to adopt the report.