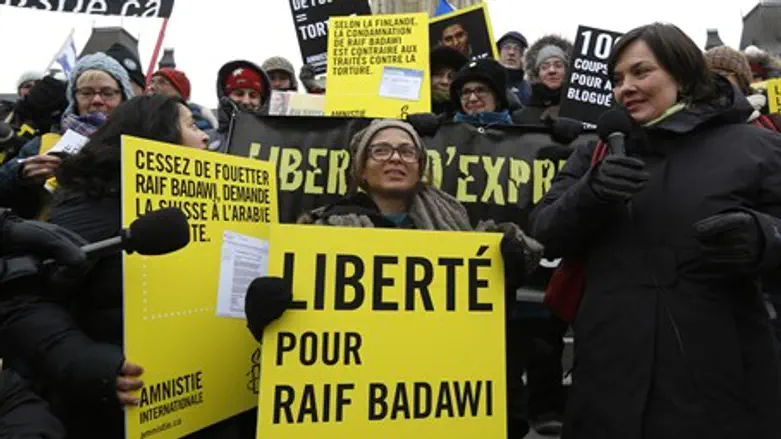 Demonstration for the release of Raif Badawi
Reuters
A Saudi blogger who has been jailed and flogged for "insulting Islam" was awarded a major free-speech prize on Tuesday, according to The Associated Press.
The blogger, Raif Badawi, shares the PEN Pinter Prize with British poet James Fenton.
Badawi is serving a 10-year sentence after being convicted of insulting Islam and breaking Saudi Arabia's technology laws with his liberal blog. He also was sentenced to 1,000 lashes, spread over 20 instalments, and fined $266,000.
The flogging has been suspended since Badawi received 50 lashes in January, a punishment that sparked international outrage.
In June, Saudi Arabia's supreme court upheld the sentence against Badawi, who ran a site called Free Saudi Liberals and has been in custody since 2012.
Western governments have condemned Badawi's treatment, and rights groups including Amnesty International have campaigned for his release. Swedish Foreign Minister Margot Wallstrom accused Saudi Arabia of handing a "medieval" punishment to Badawi.
Wikipedia founder Jimmy Wales, who accepted the award on the blogger's behalf at a London ceremony, criticized Britain's Foreign Office for saying it would be "interfering" to comment on Saudi Arabia's judicial process.
Saudi Arabia is a major strategic and trading partner of Britain, and Wales urged the British government "to show moral leadership" and seek Badawi's release.
The Foreign Office didn't immediately respond to a request for comment, according to AP.
The PEN Pinter Prize was established in 2009 in memory of Nobel Prize-winning playwright Harold Pinter and is run by writers' group English PEN. It goes jointly to a British writer seen as sharing Pinter's "unflinching, unswerving" gaze on society, and a "writer of courage" who has faced persecution.
Fenton, a former Oxford University professor of poetry and war correspondent, said Badawi's punishment represented "a world of inconceivable cruelty, but intimately linked to ours by business, strategic interests, military and diplomatic ties."
Saudi laws are based on Islamic Sharia law, a moral and religious code.
Lashes are a common punishment in Saudi Arabia for offenses such as insulting the monarchy, blasphemy, or even insulting members of one's own tribe.
Despite its less than stellar human rights record, Saudi Arabia won a seat on the UN Human Rights Council, being one of several countries with questionable human rights records to win seats in this body.