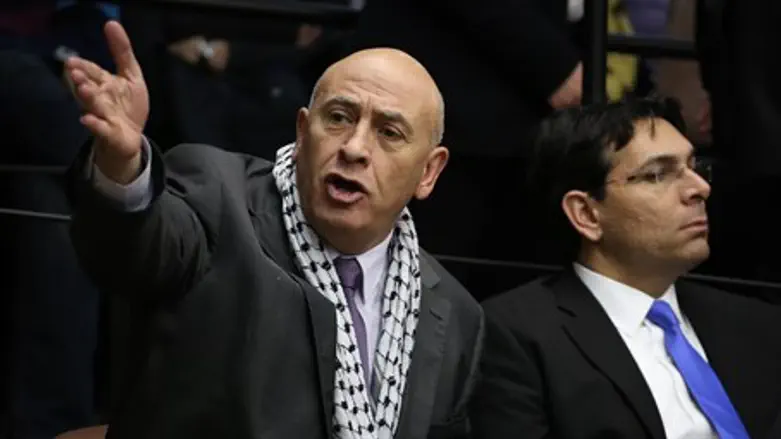 Basel Ghattas
Hadas Parush/Flash 90
Arab MK Basel Ghattas (Joint List) defended on Tuesday the Arabs who mocked, kicked, and hit Adelle Banita-Bennett as she staggered wounded through the streets of Jerusalem's Old City during a stabbing attack on Saturday, in which an Islamic Jihad terrorist murdered her husband and another Jew, and wounded her young child. 
"I cannot judge them, because they are the victims of daily abuse from those same settlers," Ghattas claimed to Walla! News. "If I were there, I would have helped. It's not okay they didn't help her. But from my perspective, you and I cannot judge them."
Ghattas was similarly sympathetic to 19-year-old terrorist Fadi Alwan, who was shot dead by security forces after stabbing Moshe Malka, 15, near the Damascus Gate in the capital on Saturday night. 
According to Ghattas, the police killed Alwan "in cold blood," while "inciting settlers told them to 'kill him, kill him, shoot him, shoot him.'"
In general, Ghattas blamed the recent wave of terror on the Prime Minister, accusing the "demonic" Binyamin Netanyahu of leading a "right-wing, radical messianic, and crazy government."
"Netanyahu needs to know he can no longer manage this conflict," Ghatta said, before asserting that peace would only be achieved by "ending the occupation and establishing a Palestinian state."
Ghattas' remarks follow several other provocative statements made by Joint List MKs Tuesday in response to increasing Arab violence. 
MK Ahmad Tibi, for instance, also expressed support for Fadi Alwan claiming he was "being chased by settlers."
And Joint List chairman Ayman Odeh refused on Tuesday to speak out against the ubiquitous phenomenon of roadside terror in which Arab assailants hurl rocks at Jewish motorists.
"There is no doubt that the occupied nation has a right to fight the occupation within the 1967 borders. I do not place red lines before the Arab nation," Odeh told Army Radio. "It is the one that will choose how to fight against the terror."