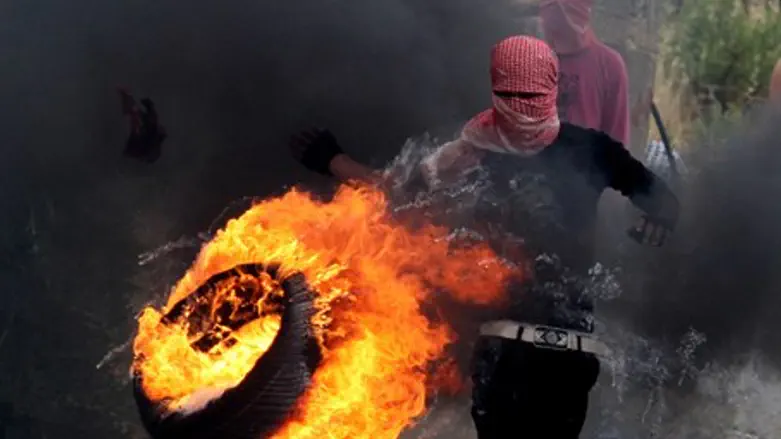 Arabs riot on 'Nakba Day' (file)
Flash 90
The Israeli army shot dead two Arab rioters over the past 24 hours, as violence continued to spike in Jerusalem and Judea-Samaria.
In the first incident an 18-year-old Palestinian man was shot dead in clashes with Israeli soldiers in Tulkarem late on Sunday night; he was later identified as Huzeifa Othman Suleiman.
On Monday, a 13-year-old rioter was shot during clashes at a refugee camp near Bethlehem, police and emergency services said.
Abdel Rahman Abdullah was struck in the chest by Israeli fire at the Aida refugee camp, the sources said.
Clashes have spread after two recent terrorist attacks killed four Israeli civilians and wounded several others, including a two-year-old child. Prime Minister Binyamin Netanyahu has pledged "a fight to the death against Palestinian terror" and announced new security measures as a result.
Among other measures, Israeli security forces banned Palestinian non-residents from entering Jerusalem over Sunday and Monday, as Jews celebrate the Simchat Torah festival.
Netanyahu said he had ordered security forces "to speed up the demolition of terrorists' homes, the expansion of administrative detention of rioters, further reinforcement of forces in Jerusalem and Judea and Samaria and the removal of inciters from the Old City and the Temple Mount."
AFP contributed to this report.