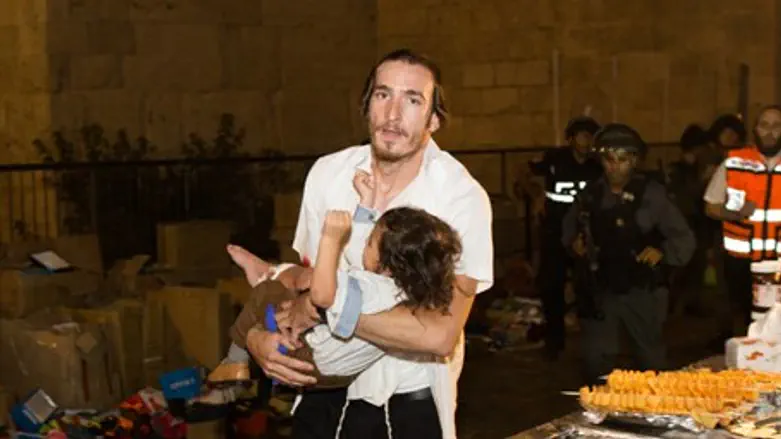 Jerusalem stabbing attack
Yonatan Sindel/Flash 90
Three Jews wounded in Saturday night's stabbing attacks are on the mend Sunday, as funeral arrangements are being made for two Israelis murdered by Palestinian Arabs. 
Adelle Banita, the wife of murdered 21 year-old Aharon Banita Bennett, underwent an operation overnight and is now listed in moderate-to-serious condition. 
Banita's two year-old son, who was also injured in the attack, was transported to Jerusalem's Shaarei Tzedek hospital and is now listed in light condition. Miraculously, the Banita-Bennett's infant daughter escaped the attack uninjured. 
On Saturday night, Aharon Bennett and Rabbi Nehemia Lavi, 41 were killed in a brutal stabbing attack in the Old City. Rabbi Lavi will be laid to rest at 12:00 p.m. at Har Hamenuchot in Jerusalem. 
Hours later, a 15 year-old was stabbed near Damascus Gate; earlier Sunday morning, Israel Police spokesman Micky Rosenfeld confirmed that the teen's condition has improved from 'moderate to serious' to 'moderate.'