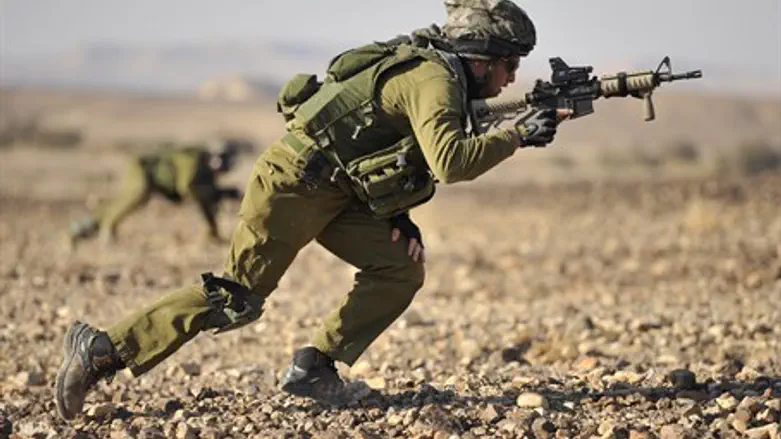 IDF soldier (illustration)
IDF Spokesperson
The IDF Givati Brigade Commander decided on Thursday to dismiss the first lieutenant responsible for a unit which last Friday was caught on film breaking the cameras of foreign journalists during a violent Arab riot in Beit Furik, an Arab town outside Shechem (Nablus) in Samaria.
"The commander of the force acted in a manner unbefitting an IDF commander," wrote Givati Brigade Commander Col. Yaron Finkelman following the inquiry he conducted into the incident. The Chief of Southern Command Staff, Brig. Gen. Udi Ben Moha, held a swift hearing for the officer Thursday and upheld Finkelman's findings.
In response to the dismissal, soldiers in the officer's unit announced they will refuse to take part in their next operation. There is also a rapidly growing protest on a Facebook page that was established with the name "Officer hero of Israel - We All Stand with First Lieutenant A."
A post on the Facebook page on Thursday shortly after the dismissal announcement read: "the IDF spokesperson did not publish the fact that the officer broke the cameras because the photographers prevented the advancement of the force, and effectively prevented the response to the violent breach of public order that included rock throwing."
"A soldier was wounded in the field when Palestinians started to surround him and tried to harm him. Without the breaking of the cameras and moving the photographers there could have been a 'lynch' on a wounded soldier!," claimed the page.
Further repercussions for the rest of the officer's military service will be considered by the IDF Ground Division.
In a pre-edited video taken by Arab rioters and spread on social networks, the soldiers are seen pushing the AFP photographers out of the way, and one is seen breaking the camera of one of them by throwing it on the ground. The video does not show what preceded these actions.
A Givati soldier told Arutz Sheva on Saturday night that the journalists had intentionally confronted the officers for many long minutes.
"They got close with their cameras into the very faces of the soldiers to test their patience in this security area," he said. "It's a shame that the IDF isn't dealing with the unnecessary confrontation by the foreign journalists, most of whom are pro-Palestinians."