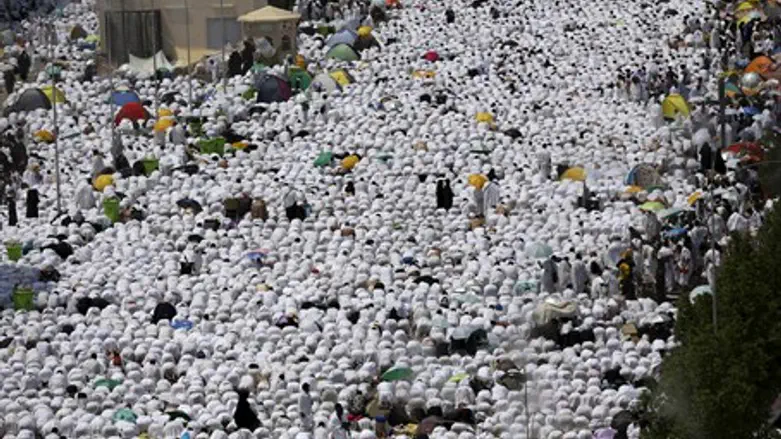 Muslim pilgrims in Mecca
Reuters
Iran on Thursday nearly doubled the official version of the death toll from the hajj stampede to 464, giving up hope of finding missing pilgrims alive after a tragedy that has sparked a major row with Saudi Arabia.
After Iran threatened a "fierce" response to delays repatriating its dead, Tehran and Riyadh reached an agreement to speed up the return of the bodies of Iranian victims.
Shi'ite Tehran has accused its Sunni rival Saudi Arabia of hindering its efforts to bring home the bodies of those killed in the stampede during the Muslim hajj pilgrimage to Mecca, which occurred as the pilgrims were on their way to the "stoning the devil" ritual in which rocks are thrown at a pillar representing the devil.
The Islamic republic has the highest confirmed death toll among foreign nationalities by far, accounting for more than half of the 769 killed, followed by Egypt with 75.
"Seven days after this tragic accident...the status of all (pilgrims) injured has been completely cleared and reported," Iran's hajj organization said in a statement Thursday carried by state television.
Around 240 Iranians were previously declared dead after the crush on September 24 near Mecca, with more than 200 classified as missing.
Ali Marashi, head of the Iranian Red Crescent's hajj medical center in Tehran, said that his organization had visited hospitals looking for the missing "and sadly we have not found even one person who might be Iranian."
Iran's IRNA news agency quoted Health Minister Hassan Hashemi as saying that he and his Saudi counterpart Khaled al-Falih had agreed to "speed up the repatriation process."
"We were assured that no Iranian would be buried (in Saudi Arabia) without the permission of the government and their relatives," he said.
Those unidentified bodies who are clearly Iranian would be repatriated first and identified at home, Hashemi added.
Khamenei steps up rhetoric
"Saudi officials are failing to do their duties," Iran's supreme leader Ayatollah Ali Khamenei said in a speech Wednesday to graduating navy officers.
"They should know that the slightest disrespect towards tens of thousands of Iranian pilgrims in Mecca and Medina and not fulfilling their obligation to transfer holy bodies will have Iran's tough and fierce reaction."
The missing included four Iranian diplomats, who the official ISNA news agency said are thought to have died.
Ghazanfar Roknabadi, 49, the country's former ambassador to Lebanon, a highly sensitive post, is among the four.
Interior Minister Abdolreza Rahmani Fazli visited Roknabadi's family in Tehran on Thursday and sent president Hassan Rouhani's condolences, Isna reported.
"The fate of 16 other Iranian pilgrims is still unclear according to latest figures," Rahmani Fazli told the ex-diplomat's family.
The two regional rivals were already at odds over Iran's support for Shi'ite Houthi rebels trying to violently seize control in Yemen, where a Saudi-led Arab coalition has waged months of air strikes against the insurgents.
Riyadh has accused Tehran of playing politics with the hajj tragedy.
On Wednesday the coalition said it had seized an Iranian boat in the Arabian Sea loaded with weapons destined for Yemeni rebels.
It said the boat, registered to an Iranian as a fishing vessel, was carrying 18 Concourse anti-armor shells, 54 BGM17 anti-tank shells, 15 shell battery kits, four firing guidance systems and various items of launch-related equipment.
A source in Iran's foreign ministry later rejected the claims as "propaganda," IRNA reported.
Sunni-dominated Saudi Arabia and its allies have repeatedly accused their Shi'ite rival Iran of arming the Houthi rebels, who have seized swathes of Yemen including the capital.
AFP contributed to this report.