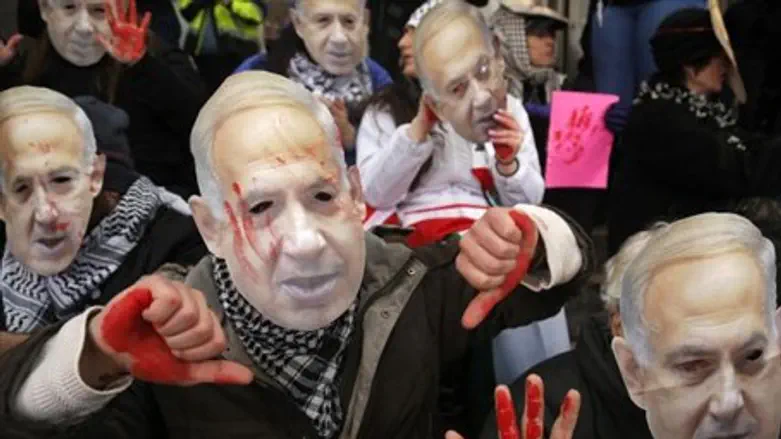 Anti-Israel protest (file)
Reuters
Two pro-Palestinian groups issued searing reports on Wednesday accusing Israel advocacy groups of "stifling dissent" and infringing on their critics' right to free speech on college campuses. 
Both Jewish Voice for Peace (JVP) and the Center for Constitutional Rights (CCR) with Palestine Legal blasted pro-Israel groups like Stand With Us, The David Project and Zionist Organization of America for so-called "censorship."
"As the movement for Palestinian rights has grown we've seen a sharp spike in tactics that attempt to muzzle criticism of Israel," said Omar Shakir, a staff attorney at CCR and writer of the report, titled "The Palestine Exception to Free Speech: A Movement Under Attack in the U.S."
The 124-page report charged the pro-Israel groups with "chilling and censoring of Palestine advocacy" through tactics including "false and inflammatory accusations of anti-Semitism and support for terrorism."
JVP's publication, titled "Stifling Dissent: How Israel's Defenders Use False Charges of Anti-Semitism to Limit The Debate Over Israel on Campus," also slammed the "objectionable activity" of filing complaints with university administrators over anti-Israel speakers, who pro-Israel groups say are creating a hostile campus environment for Jewish students. 
According to JVP, these advocacy organizations launch attacks against pro-Palestinian groups by "deploying spurious charges of anti-Jewish bigotry, shutting down conversations, and policing the boundaries of legitimate Jewish identity and acceptable debate"
Slamming the pro-Israel groups moves as "MaCarthyite tactics," JVP's 73-page report also rages against "blacklisting professors and launching public campaigns around faculty hires," such as the now infamous "un-hiring" of Steven Salaita from the University of Illinois. 
Salaita wrote a series of incendiary tweets during last summer's Gaza war, likening Israel's defenders to "awful human beings" and suggesting it would be no surprise if Prime Minister Binyamin Netanyahu "appeared on TV with a necklace made from the teeth of Palestinian children."
Oren Segal, director of the Anti-Defamation League's Center on Extremism, dismissed the reports, arguing that pro-Israel groups on campus were in fact asserting their own right to free speech rather than muffling anyone else. 
"The notion that there are pro-Israel groups speaking out against the messages and tactics of anti-Israel groups is true, but that's also free speech," he told Haaretz. 
In addition, Segal added, "The notion that anyone is being stifled by the organized Jewish community seems a little hollow. I wonder if it's another tactic being used by Jewish Voice for Peace and Students for Justice in Palestine to present themselves as victims."