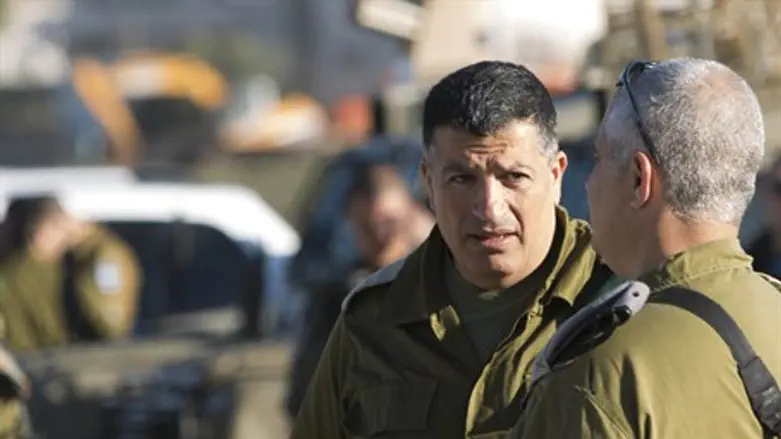 COGAT commander Yoav Mordechai
Yonatan Sindel/Flash90
Israel is willing to help the Palestinian Authority (PA) build two new cities in northwest Judea-Samaria, Lebanese media reported Monday - this, in addition to the city of Rawabi, which is already under construction. 
Coordinator of the Goverment Activities in the Territories (COGAT) commander Major General Yoav Mordechai, PA "Prime Minister" Rami Hamdallah and PA Civil Affairs "minister" Hussein al-Sheikh met on September 9 to discuss the plans, Al-Akhbar revealed. 
During the meeting, Mordechai reportedly said that Israel is ready to present a plan to connect gas lines from Israel to Gaza, to authorize use of 3G service in the PA, and support new technological developments in the PA. 
Both COGAT and the PA have denied the meeting ever took place, with Mordechai stating to Walla! News that the quotes "are lies, and that's an understatement." 
"As for statements that we intend to build another city in Samaria, this is an idea presented to us by a Palestinian entrepreneur, and are in the initial stages of the approval process," he added. 
Hamdallah's office also repudiated the remarks, and claimed that the meeting never took place.
"This is false advertising, whose purpose is to harm the Palestinian leadership," it said in an official statement. "We are considering legal action against the newspaper."
Additional cities like Rawabi, which is Qatari-funded, could prove a stumbling block in negotiations with Israel, as the city represents foreign interests changing the status quo on the ground in Israel and the PA to force the two sides into declaring borders. 
Concerns were raised in September over the city, which is nearly completed, and whether it - like Hamas strongholds in Gaza - could prove a security risk for Israeli citizens; the Jewish city of Ateret is just 3km north of the new city.