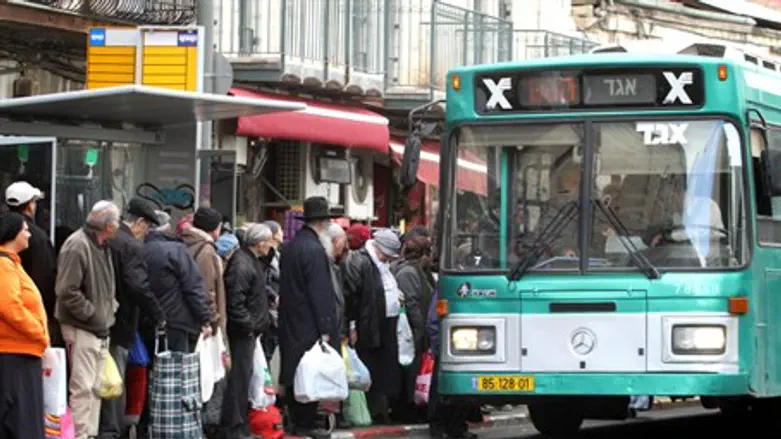 Jerusalem Egged bus
Flash 90
The National Transport Authority has increased and expanded public transportation in Jerusalem, it announced Tuesday, ahead of a mass influx in tourism in the nation's capital. 
Bus lines leading to the Western Wall (Kotel) will now run until 1:00 am each night until the beginning of the month of Cheshvan (October 14, 2015 - ed.), in a move designed to handle an increase of thousands of tourists moving throughout the area during Sukkot. 
Lines running through haredi neighborhoods in Jerusalem will also be extended until 1:00 am to accommodate both visitors and locals attending the traditional Simchat Beit HaShoeva celebrations during the intermediate days (Chol HaMoed) of the holiday, which extend from Tuesday until next Sunday. 
Popular intercity lines will also run until 1:00 am instead of 12:00 am to meet the demand. 
Light Rail "sickout" shuts down train service
Transport company CityPass had extended the Jerusalem Light Rail service until 1:00 am as well, but was thwarted by a strike after Light Rail drivers arranged a "sickout" in protest.
Some 1/3 of Light Rail conductors called in sick Tuesday morning, apparently as part of the ongoing dispute between CityPass and Light Rail employees and the Histadrut (Labor Union). 
At roughly 10:00 am, train service shut down entirely due to the protest. 
"We regret this display of organized reckless behavior the committee chose, which will harm the service provided to passengers and disrupt their daily routine, just now during the festival," CityPass stated Tuesday morning. It added that regional labor authorities have done nothing to stop the "illegal and dangerous" behavior of the employees' union in staging frequent strikes. 
The railway administration will act by all means available to prevent further disruptions, including an appeal to the Labor Court, it said. 
"We have approached the Ministry of Transportation and the municipality to reinforce regulations regarding intercity traffic," it added.