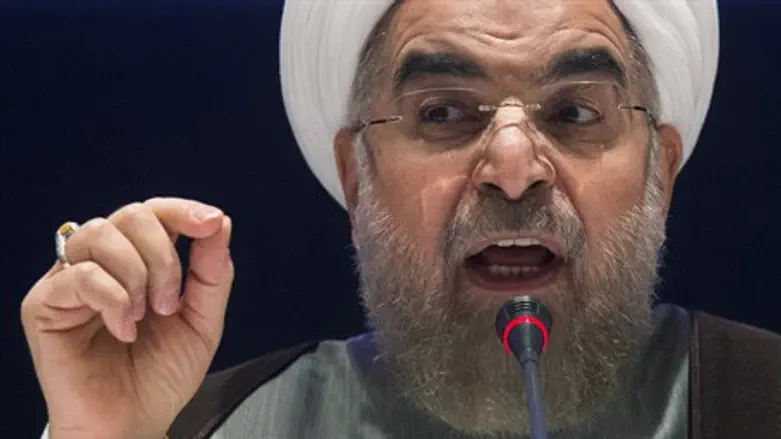 Iranian President Hassan Rouhani
Reuters
Iranian President Hassan Rouhani on Monday called for a united front to fight extremists in the Middle East and said Tehran was ready to help "bring about democracy" in Syria and Yemen.
Making his first address to the UN General Assembly since the historic nuclear deal was reached, Rouhani waded into the intense diplomatic debate over fighting jihadists and pushing for regime change in Syria.
Rouhani extended an invitation "to the whole world and especially the countries in my region to form a joint comprehensive plan of action to create a united front against extremism and violence."
The grouping would tackle regional problems through dialogue, prevent the slaughter of innocent civilians, and build democratic governance in the region, he said.
Rouhani spoke after Russian President Vladimir Putin called for a "broad coalition" to stamp out the Islamic State group but stressed that the Damascus regime must take part in the effort.
"The gravest and most important threat to the world today is for terrorist organizations to become terrorist states," said Rouhani. 
Iran has played a major role in the fight against the Islamic State terrorist organization in neighboring Iraq independently of the US-led coalition. 
But it has also provided military advisors, weapons and trainers to both the Iraqi army and numerous terror groups - including Hezbollah and Hamas. 
An ally of Syria's President Bashar al-Assad, Iran has repeatedly argued that fighting ISIS jihadists must be the first priority in addressing the crisis from the four-year war.
Rouhani however did not specifically address Assad's fate, but he did suggest that elections could restore legitimacy of power.
"We support the consolidation of power through the vote of people rather than with arms," he said.
Rouhani's remarks came amid much wrangling over the way forward to end the four-year war in Syria that has left more than 240,000 dead and sent thousands of refugees fleeing to Europe.
Russia strengthened its hand in shaping Syria's post-war future when it sent troops and fighter planes to shore up the battle against ISIS, which now controls large swaths of territory.
Rouhani spoke after President Barack Obama slammed support for Assad, describing the Syrian leader as a "tyrant", "who drops barrel bombs to massacre innocent children."
AFP contributed to this report.