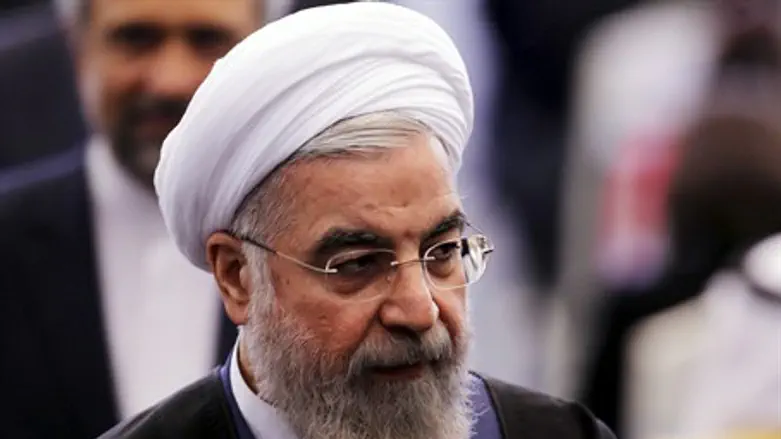 Iranian President Hassan Rouhani
Reuters
Tehran will work to free three Americans from its prisons if the United States releases jailed Iranians, President Hassan Rouhani said Sunday, according to AFP.
"If the Americans take the appropriate steps and set them free, certainly the right environment will be open and the right circumstances will be created for us to do everything within our power and our purview to bring about the swiftest freedom for the Americans held in Iran as well," Rouhani, who is visiting New York for the UN General Assembly, told CNN.
At least three Americans, all of them of Iranian heritage, are in jail in Iran including Jason Rezaian, a correspondent for The Washington Post who was arrested in July 2014 and accused of spying.
The two other Americans are Amir Hekmati, a former American Marine who was charged with spying, and Saeed Abedini, a convert to Christianity who gathered a Bible study group.
Hekmati, who was arrested in 2011, was put on trial and found guilty of spying for the CIA. He was subsequently sentenced to death, a penalty that was eventually overturned and reduced to 10 years in prison.
Much of Iran's judiciary is known for its closeness to hardliners, who are eager to scuttle the moderate Rouhani's efforts to reconcile with Western powers.
"Nothing would make me happier" than movements to release prisoners, Rouhani was quoted by AFP as having said.
The United States has regularly demanded the unconditional release of the three prisoners.
For its part, Iran has sought the freedom of 19 of its citizens who are jailed in the United States in connection with Washington's sanctions against the Islamic Republic's nuclear program.
Rouhani's comments mark a change in Iran's policy. Iran's deputy foreign minister Hassan Qashqavi told semi-official Iranian news agencies in late August that "an exchange of Jason Rezaian is not on the agenda", but the speaker of Iran's parliament later hinted at the possibility of a prisoner swap with Washington.
Under Rouhani, Iran has reached an agreement with the United States and five other powers to end suspicious nuclear activity in return for sanctions relief.
While tensions have eased, Iran and the United States have not had diplomatic relations since 1980, a year after the Islamic revolution toppled the Western-oriented shah.
Another American, former FBI agent Robert Levinson, disappeared in Iran in 2007 but his whereabouts are unclear.
(Arutz Sheva's North American desk is keeping you updated until the start of Shabbat in New York. The time posted automatically on all Arutz Sheva articles, however, is Israeli time.)