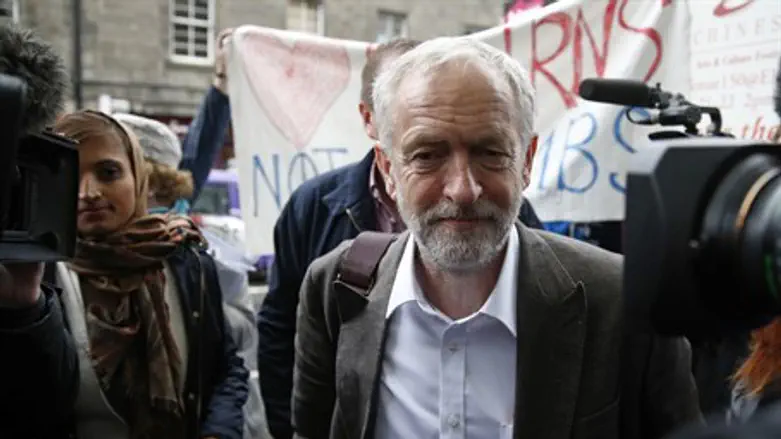 UK Labor leader Jeremy Corbyn
Reuters
British Labour leader Jeremy Corbyn, who has stirred up controversy due to his anti-Israel comments and by calling Hamas and Hezbollah his "friends", has accepted an invitation to speak at Labour Friends of Israel's (LFI) reception next week's, The Jewish Chronicle reported on Thursday.
He will be joined by Shadow Foreign Secretary Hilary Benn, the Jewish news website noted.
Joan Ryan, chair of LFI, who extended an invitation to Corbyn earlier this week, said, "I'm looking forward to welcoming the leader of the Labour Party and the Shadow Foreign Secretary to this year's LFI reception. I hope this will mark the start of a conversation on how the next Labour government can best contribute to the peace process and a two-state solution."
Ryan, who has also requested a meeting with Corbyn, added, "It would be wrong to turn away. There's no reason to believe dialogue is not welcome. We have an open door and we will go through it with all our good and strong arguments."
British Jews have voiced deep concern over Corbyn's disturbing links to a wide range of extremists, spanning far-right holocaust deniers, an anti-Semitic Christian minister and Islamist terrorist groups.
Tuesday evening's event will be preceded by a discussion, co-hosted with Bicom, on the possibility of a two-state solution to the Israel-Palestinian conflict. Speakers are due to include MP Mike Gapes, defeated election candidate Sarah Sackman, and MK Erel Margalit (Zionist Union).
Ryan said she was confident in LFI's position within the party and remained positive about its prospects."We have people in the party who give strong support. Our deputy leader [Tom Watson] is vice-chair of Trade Union Friends of Israel, so that's helpful."
British Prime Minister David Cameron has warned that Corbyn is a "threat to national security"  and would undermine the UK's defenses.
Corbyn, meanwhile, last week revealed in an interview that there was a "Jewish element" in his family, stressing that he is "not anti-religious at all" and probably went to more religious services than most strong believers..