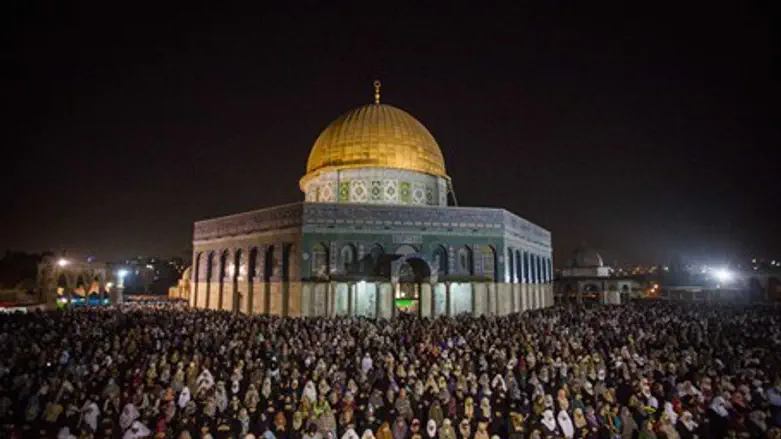 Temple Mount
Muath Al Khatib/Flash 90
Jerusalem District Commander Moshe Edri on Monday evening announced that the entry of Muslims to the Temple Mount compound will be restricted in the coming days, in light of the ongoing violence in the area and in the wake of intelligence received that Arab youths intend to cause disturbances during the Yom Kippur holiday.
Under the guidelines, only Muslim men aged 40 and older will be permitted to enter the compound, as well as women of all ages.
Yom Kippur begins on Tuesday night at sundown and will end on Wednesday evening. It will be followed by the Muslim Eid al-Adha holiday, which begins on Wednesday evening and continues until Sunday.
According to an announcement from the Jerusalem Police, it will be reinforcing its presence in the eastern and western parts of the city, especially in alleys of the Old City, and along the roads leading to the Western Wall and the Temple Mount.
Meanwhile, the IDF announced that during the Yom Kippur holiday, it would impose a general closure on Judea and Samaria and the crossings to Gaza will be closed.
The closure will begin on Tuesday at 12:00 p.m., and will be lifted on Wednesday just before midnight, depending on the situation. During the closure, entry into Israel will be permitted in humanitarian cases and medical exceptions only.
The recent wave of violence in Jerusalem's Old City began just before the Rosh Hashanah holiday last week, when  masked Muslim rioters hurled rocks and fireworks at police on the Temple Mount, as well as firebombs near two entrances to the site, and have continued since.
However, Israel's response to the riots has resulted in it being internationally criticized instead of those Arab rioters who are behind the clashes.
One of the countries to condemn Israel for defending itself from Arab rioters is Jordan, which has accused Israel of "provocations" and "attempts to change the status quo" at the Temple Mount, threatening to "take action" should Israel not stop its actions.
Perhaps the fiercest condemnation came from  Palestinian Authority (PA) chairman Mahmoud Abbas, who called for violence at the Temple Mount against Jews, saying, "The Al-Aqsa (Mosque on the Mount - ed.) is ours...and they (Jews) have no right to defile it with their filthy feet."