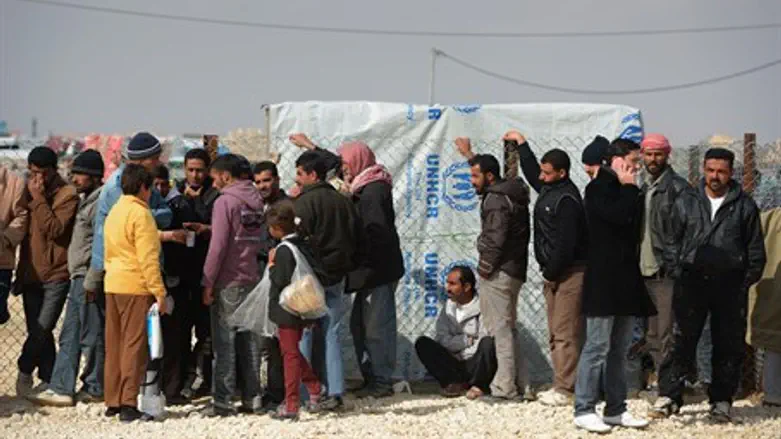 Syrian migrants
Thinkstock
An ISIS terrorist recruiter posing as an "asylum seeker" has been arrested by German police in a "refugee" center in Stuttgart. So reports German RTL television.
At the same time, a German finance ministry spokesman has acknowledged the seizure of "boxes" of fake Syrian passports, destined for sale and distribution to the new refugees from Syria and elsewhere. Bulgarian police confiscated 10,000 fake Syrian passports on their way to Germany.
Just a few days ago, Arutz Sheva quoted Matthew Henman of IHS Jane's Terrorism and Insurgency Center as saying that terrorists sneaking into Europe disguised as refugees "is one of the most pressing security concerns facing security officials across Western Europe currently." 
Possession of legal passports, and especially from Syria, is a vital part of claiming asylum as "war refugees." Fake Syrian passports are being sold for about $1,500 each, the Clarion Project reports, and there seems to be no shortage of demand among the "refugees." 
Regarding the Syrian passports, an article in the German Tagespiegel reported that it is not only Syrians who are interested in them: "Refugees from Iraq, Afghanistan, and Pakistan want to become Syrian in order to secure their recognition as asylum seekers in Western Europe. According to press reports, nine out of ten refugees who came from Macedonia to Serbia claimed they were Syrians."
The EU frontier police chief, Fabrice Leggeri, recently told Europe 1 TV that the trade in fake Syrian passports originated in Turkey. "There are people who are now in Turkey, buying false Syrian passports because they have obviously realized that it is a windfall, since Syrians get asylum in all Member States in the European Union," he said.
The ISIS recruiter who was arrested in Germany is a 21-year-old Moroccan who had bogusly registered as an asylum seeker in the Ludwigsburg district. Police linked him to an outstanding European arrest warrant issued by Spain. He is accused of recruiting terrorist fighters for ISIS, where he acted as a contact person for those wanting to travel to Syria or Iraq.
This is apparently the first arrest of a sham "asylum seeker" – but many more are expected. 
Kurdish media reported Sunday night that a Syrian migrant who was physically tripped earlier this month on the Hungarian border by a reporter as she fled with her little son may actually have been a terrorist infiltrating the country. No confirmation of this report has yet been received.