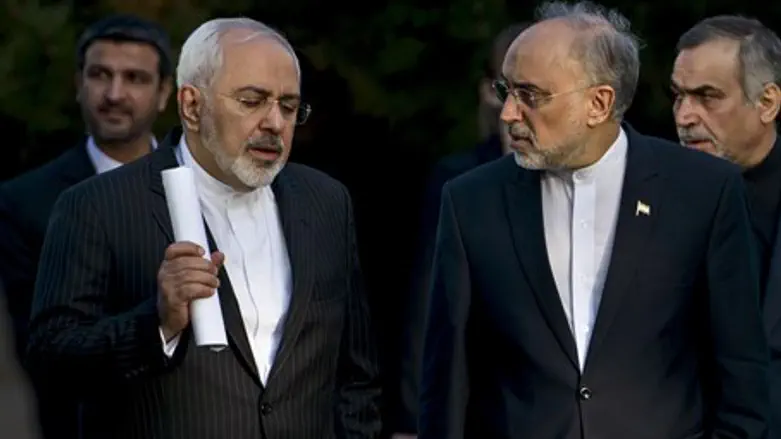 Iranian FM Javad Zarif, AEOI chief Ali Akbar Salehi
Reuters
As part of the recent nuclear deal Iran on Monday handed over to the UN nuclear body alleged samples from the covert Parchin military base, which reportedly has been a key site used to test nuclear detonators.
The samples were taken by Iranian scientists with UN scientists not allowed on the site, as announced by an Iranian official on Monday, reports AFP.
The "environmental sampling from some specific parts within the Parchin complex" was conducted in the past week, Iran's Atomic Energy Organization (IAEO) spokesman Behrouz Kamalvandi told state media.
"It was done by Iranian experts, in the absence of IAEA inspectors," Kamalvandi said, clarifying that International Atomic Energy Agency (IAEA) staff who visited Iran last week were not allowed on the site.
The transfer of the materials comes in the framework of the International Atomic Energy Agency's (IAEA) work to determine possible military aspects of Iran's nuclear program by the end of the year, as part of a classified side deal between Iran and the IAEA that has been kept secret from the US Congress.
That side deal stipulates that Iran will inspect Parchin itself, with no international inspectors allowed in.
IAEA Chief Yukiya Amano on Sunday was granted brief access to Parchin during a one-day visit to the country, although his tour was a far cry from a full inspection of the site, which the IAEA has long requested access to that Iran has long denied.
The original itinerary for Amano's one-day visit to Iran did not include a visit to Parchin.
Despite Iran's claims that Parchin is unrelated to its nuclear program, last October it admitted to using Parchin to test exploding bridge wires, used as nuclear detonators.
US President Barack Obama's administration has been trying to play down Parchin, with US State Department spokesperson John Kirby last month claiming Parchin is "a conventional military site, not a nuclear site."
When pressed by a puzzled reporter why Parchin appeared in a new IAEA report about an extension to the site if it has nothing to do with Iran's nuclear program, Kirby evaded the issue by referring him to the UN's IAEA.
That IAEA report on Parchin extensions included data by several member states giving further evidence that Parchin might have housed hydrodynamic experiments to assess how specific materials react under high pressure, such as in a nuclear blast.
IAEA reports in November 2011 pointed to nuclear weapons development previously conducted at the site, and a 2012 IAEA report likewise confirmed explosives containment vessels were at the site and likely used to test nuclear detonators.