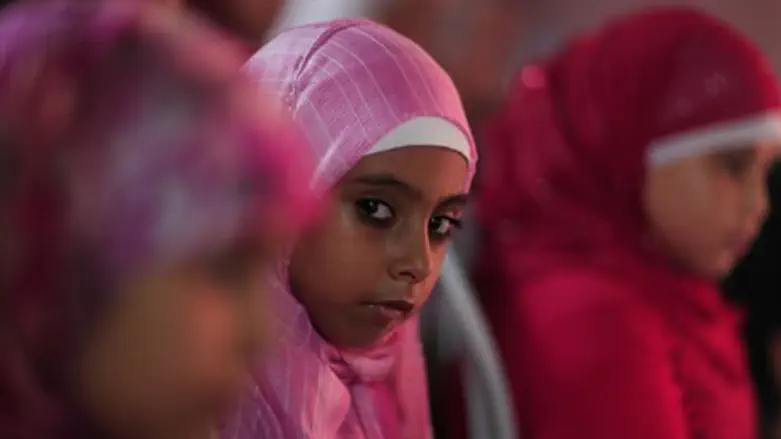 Muslim girls (illustration)
Flash 90
The Central Bureau of Statistics (CBS) released new data about Israel's Muslim population Sunday, ahead of the Eid al-Adha holiday Tuesday night. 
At the end of 2014, the Muslim population in Israel stood at 1.454 million, an increase of about 33,500 since 2013. 
The growth rate of the Muslim population is in decline - from 3.8% in 2000 to 2.4% in 2014. Despite this, the Muslim population is still growing faster than any other in Israel - with the Jewish growth rate at 1.9%, Christian at 1.6%, and Druze at 1.5%.
More than half of the Muslim population is concentrated in the North, with 36.2% of Israel's Muslims in the northern district and 14% in the Haifa metropolitan area. 21.6% of Israeli Muslims live in the greater Jerusalem area; 15.9% in the South; 11.1% in the Central District; and just 1.1% live in the Tel Aviv area. 
However, the largest single concentration of Israeli Muslims live in the city of Jerusalem: 303,000, or 20.9% of all Israeli Muslims and 35.7% of Jerusalem residents total. Other large Muslim communities reside in Rahat (60,000; 98% of total residents); Nazareth (52,000); and Umm Al-Fahm (51,000). 
Fertility
The Muslim population is a young population; the percentage of children is high and the percentage of the elderly is low. 36.5% of the Muslim population are aged 0-14 (around 530,000) and only 3.7% are over 65 years old (about 53,000).
This age structure is the result of high fertility rate among Muslim women: 3.4 children, on average, per woman, vs. 3.1 for Jews, 2.3 for Christians, and 2.2 for Druze. Israeli Muslims also have a higher fertility rate than their coreligionists in some Arab countries - including Syria (3.0), Algeria (2.9), Saudi Arabia (2.9), Turkey (2.1), and Lebanon (1.5). 35,970 Muslim children were born in Israel in 2014. 
The highest fertility rate, regionally, is among Bedouin Muslim women residing in the Negev - 5.5 children per woman, and the lowest fertility rate was among Muslim women in the north, Haifa and Center regions - 2.8 children per woman.
Work
The participation rate in the labor force in 2014 among Muslims aged 15 and over was 44.3% (63.5% among men and 24.9% for women). It should be noted that the percentage of participation of Muslim women was significantly lower than the Jewish, Christian, and Druze populations in Israel (65.5%, 46.3% and 32.2%, respectively).
The unemployment rate among Muslims aged 15 and over was 8.1% higher than among Jews, Christians and Druze (5.7%, 6.1% and 7.3%, respectively).
In 2014, 215,600 Muslim households (78.3% of all Muslim households) had at least one employed person.
In 15% of Muslim households, all household members are employed, compared with 44.5% of Jewish households, about 27% of Christian households and 20% of Druze households. 
The housing density in Muslim households was 1.42 persons per room, higher than among Jews, Christians and Druze (0.82, 0.99 and 1.17, respectively).