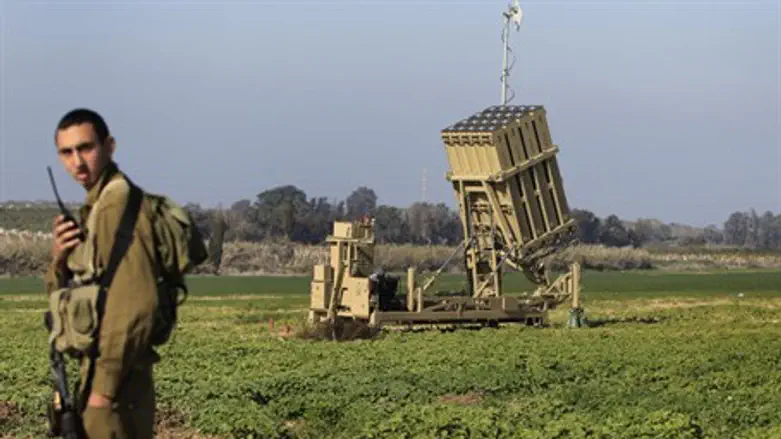 Iron Dome system
Flash 90
The Israel Defense Forces have deployed an Iron Dome to Ashdod on Thursday morning following the re-arrest of Islamic Jihad terrorist Mohammed Allan, Channel 10 reported. 
Allan, who recently attracted great media attention for his hunger strike while on administrative detention, was released from Barzilai Hospital in Ashkelon on Wednesday morning - only to be administratively arrested again, after which he restarted his hunger strike.
The IDF Southern Command confirmed that Allan's arrest stood behind the decision to deploy the missile defense system to Ashdod, but claimed it was just a preemptive measure and that rocket fire was not anticipated. 
The last time the Iron Dome was deployed to Ashdod was less than a month ago amid fears terrorists in Gaza would launch rocket attacks if Allan were to die.
As his condition continued to deteriorate in August, Israel's Supreme Court temporary lifted Allan's administrative detention order, and the state agreed to release him. 
Allan was returned to the Israel Prison Authority on Wednesday after release from the hospital where he had been receiving treatment for around three months due to his hunger strike. Afterward, he was arrested on an IDF general's order by Ashkelon district police officers.
His lawyer Jamil Hatab told Channel 2 that "Mohammed returned to his hunger strike. He told me explicitly: 'if they arrest me again I'll start a new hunger strike.' He's currently in a hunger strike."
During Allan's previous hunger strike, Islamic Jihad vowed repeatedly to break the ceasefire with Israel and launch a new terror war if he were to die from his self-imposed starvation.