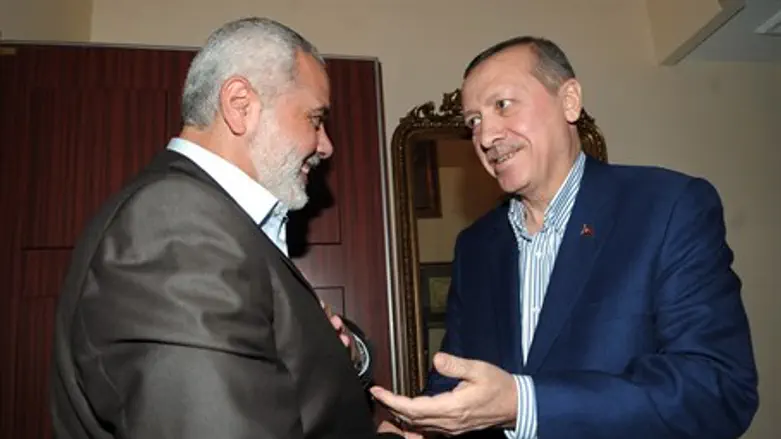 Khaled Mashal, Recep Tayyip Erdogan
Mohammed Al-Ostaz/Flash 90
Turkish President Recep Tayyip Erdogan met in Ankara on Monday with Hamas politburo chief Khaled Mashaal, the exiled leader of the Gaza-based terrorist group who resides in Qatar.
Turkish media reports that the meeting behind closed doors lasted roughly an hour, and focused mainly on the situation in Jerusalem and the Al-Aqsa Mosque located on the Temple Mount, where massive violent riots have been perpetrated over the last several days by Islamist attackers.
Erdogan expressed the full solidarity of Turkey with the Palestinian Arabs and condemned the Israeli "attacks" against the Al-Aqsa Mosque, turning the Muslim violence against police and Israeli citizens on its head.
In parallel to his talk with Mashaal, Erdogan also spoke via phone with Palestinian Authority (PA) chairman Mahmoud Abbas about the riots on the mosque.
The Islamist Turkish president promised to do all he can to cause the international community to take stronger steps against Israel on the issue of Al-Aqsa, where Islamist groups have long launched violent attacks and harassed Jewish visitors to the holiest site in Judaism.
An announcement was published by the Turkish foreign ministry timed around the talks, demanding that Israel implement freedom of religion in Jerusalem. Ironically it is the Jordanian Waqf which is in de facto control of the Temple Mount that has banned Jews from praying at the site, while Muslims visit freely.
Turkish minister of religious affairs Mohammed Kormaz likewise condemned how Jewish "settlers" were "breaching" into the territory of the Al-Aqsa Mosque.
Various international leaders have called for "restraint" regarding the violence on the Temple Mount, with the US demanding that Israel maintain the discriminatory status quo on the Mount by which the Waqf bans Jewish prayer and limits Jewish access.