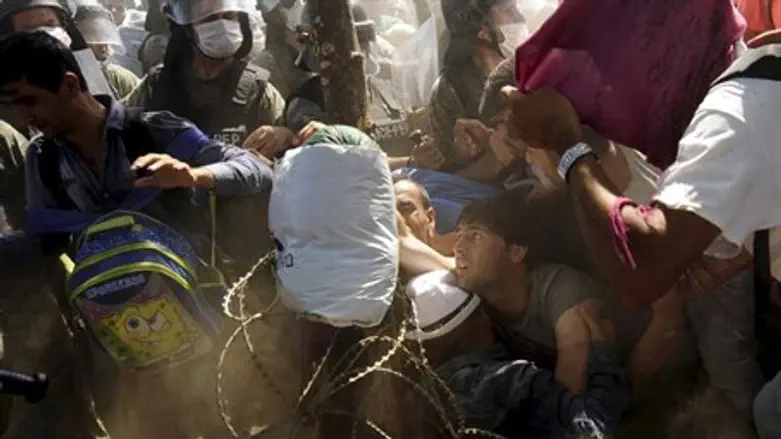 Refugees on Macedonian-Greek border
Reuters
A former French minister stirred up controversy on Friday after saying Germany "took our Jews and gave us Arabs".
The comments by Patrick Devedjian came as France began taking some of the thousands of refugees arriving in Germany and were taken sensitively in light of the refugee crisis in Europe.
Devedjian, who served in the governments of presidents Jacques Chirac and Nicolas Sarkozy, made the remark at a press conference, but quickly tried to backtrack on social media, according to the AFP news agency.
"My humorous jest was misplaced," Devedjian wrote on his Twitter account, saying he regretted it all the more because he himself helps refugees in need.
Devedjian, who comes from an Armenian family and now leads the Hauts-de-Seine region of wealthy suburbs west of Paris, said the joke was meant to be about Syrian and Iraqi refugees.
As thousands continue to flee poverty and conflict in Africa and the Middle East, Germany is expected to take in 800,000 asylum-seekers this year, four times the number in 2014 and far more than any other European country, noted AFP.
France has said it will take 24,000 refugees over the next two years, but President Francois Hollande has warned that without a united EU policy to share the burden of migrants, the borderless Schengen system could collapse.
European Commission chief Jean-Claude Juncker earlier this week presented a proposal for mandatory quotas of refugees for EU states.
Under the proposal, Germany and France would take nearly half of the 120,000 refugees to be relocated from frontline states.
Germany would take 31,443 and France 24,031, while Spain would take 14,931.
Reports emerged last week that, due to the tidal wave of migration from the Middle East and North Africa, Bulgaria and Hungary were looking into the possibility of putting up Israeli steel security fences along parts of their borders.
Hungary and Bulgaria have made preliminary inquiries about buying Israeli-designed fences, like the ones along Israel's barrier with Egypt, according to an Israeli business source who declined to be named.
Many of the migrants are refugees seek to pass through the eastern European counties to richer countries further north and west, particularly Germany.
(Arutz Sheva's North American desk is keeping you updated until the start of Shabbat in New York. The time posted automatically on all Arutz Sheva articles, however, is Israeli time.)