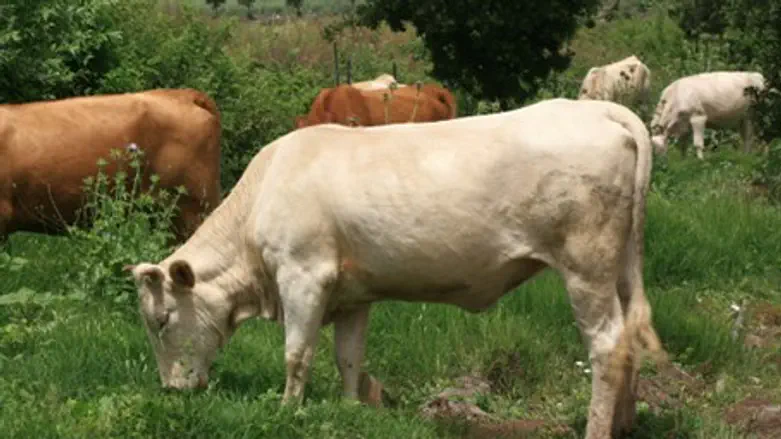 Cows (illustration)
Flash 90
A 32-year-old man suffered moderate wounds at a moshav in the southern Golan Heights on Friday morning, after a cow kicked him.
The man, a dairy farmer living in the area, was treated by Magen David Adom (MDA) medics and evacuated to the Poriya Hospital located to the west of the Kinneret (Sea of Galilee) just south of Tiberias.
The unfortunate farmer suffered wounds to his chest after the cow surprisingly launched a well-placed hoof kick, for reasons that are as yet unclear.
While bovine brutality is usually not a characteristic of the grass-eating grazers, this is in fact the second serious wound to be inflicted by a cow to humans in Israel in less than a month.
On August 21 - a Friday morning as well - a 60-year-old farmer was gored by a cow in his herd and critically wounded.
The farmer was from the agricultural moshav of Dalton, located near Tzfat (Safed) in the northern Merom Hagalil Regional Council. His 12-year-old grandson was present at the time, and hurried to call his mother who drove the grandfather to the emergency room at Tzfat's Ziv Hospital.
The animal attacks on humans in Israel's north go back even further. On July 31 a wolf bit a 75-year-old Druze farmer from the village of Buqata on the Golan Heights.
He was bit on the face and hand while working in his family's apple orchard, in an attack that left him lightly to moderately wounded.
After breaking free of the wolf and scaring it off, he managed to drive himself home in his tractor before being driven to Ziv Hospital, where the deep cuts on his face, neck and hand were treated.