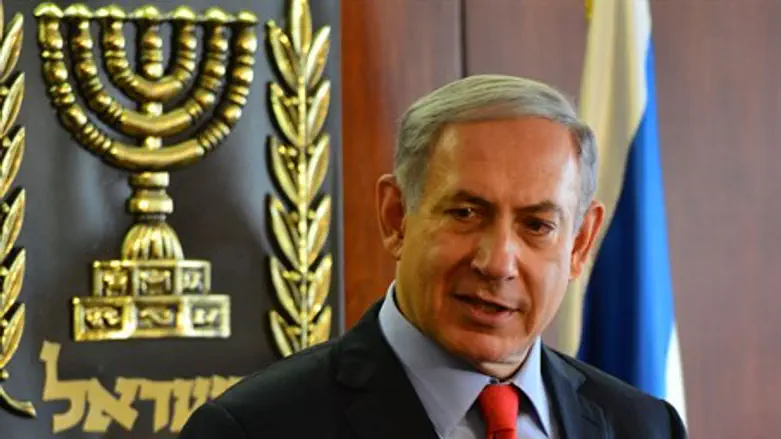 Binyamin Netanyahu
Kobi Gideon/GPO/Flash 90
Senior journalist Yossi Verter reported on Friday in the leftist paper Haaretz that Prime Minister Binyamin Netanyahu is considering forming a politically right-centrist bloc of parties to run on a joint list in the next elections.
In recent weeks in meetings with the heads of parties in his coalition government, Netanyahu has raised the possibility of forming a "Republican party" conservative bloc based on the American two-party model, according to Verter.
Netanyahu reportedly said in the talks that "only in this way will it be possible to rule. Like in America: two parties, two blocs, right and left."
The prime minister has enjoyed warm ties with the Republican party in the past; in the last elections his campaign was even managed by a Republican strategist from the US. Netanyahu's opponent Yitzhak Herzog of the Zionist Union has likewise used Democratic strategists in campaigns.
It is highly likely that Netanyahu would be able to convince Jewish Home chairman Naftali Bennett to form a joint list, particularly since Bennett and Ayelet Shaked of his party worked for Netanyahu in Likud before moving to Jewish Home. Their party gave a poor showing in the last elections as Likud surged to 30 mandates, further adding to the chances they would be open to the move.
Netanyahu apparently will also want to see Moshe Kahlon's new Kulanu party join his "Republican party."
"The public wants to see us together," he has reportedly told Kahlon frequently. "Together we are 40 mandates easily, we'll add another party or two and that's that."
However, according to the report, the prime minister doesn't want to include members of the Tekuma faction of Jewish Home led by Uri Ariel in his new bloc, apparently viewing them as a unelectable body that will scare away votes.
He also doesn't want to join with Avigdor Liberman's Yisrael Beytenu because it still has its roots decidedly in the Russian Israeli population, making it more sectoral. The decision may also have to do with the fact that Netanyahu's joint run with Liberman in early 2013 saw a weak performance, and in the current elections Liberman refused to join his coalition.