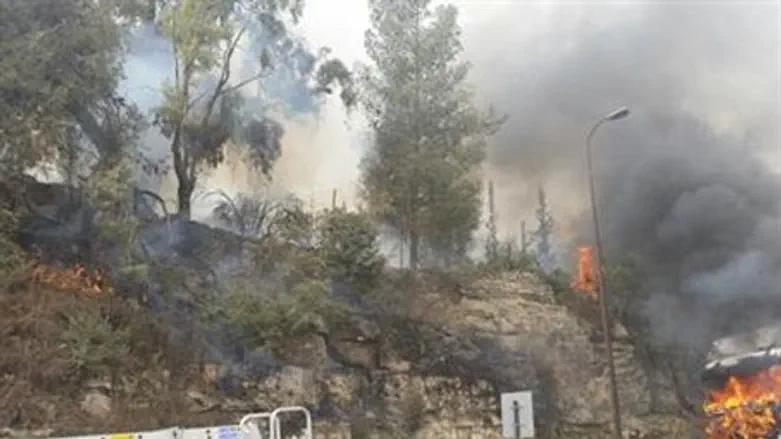 Motza fire
Traffic Police spokesperson
A truck traveling on Highway 1 between Tel Aviv and Jerusalem caught on fire near the Motza neighborhood late Thursday morning.
The blaze quickly spread to the nearby forest, and soon threatened lower Motza. Tenants of the first row of homes, near the road, were evacuated by members of the Harel police unit as well as fire protection teams. 
Twelve firefighting crews were called to the scene of the fire, gaining control of it shortly after 12 p.m. No injuries were reported.
The main road between Jerusalem and Tel Aviv was initially closed in both directions from Mevaseret Zion to the Ha'erezim Tunnel due to heavy smoke. It has since reopened in the direction of Tel Aviv. 
Highway 1 remained blocked to vehicular traffic from Mevaseret Zion in the direction of Jerusalem as did the Seven Sisters road in Motza. It has since reopened.
It should be noted the unseasonal hot weather that has afflicted Israel since the beginning of the week increases the risk of fires breaking out as well as their rapid spread. 
credit: דוברות משטרת התנועה
credit: כבאות בית שמש
credit: כבאות בית שמש
credit: דוברות משטרת התנועה