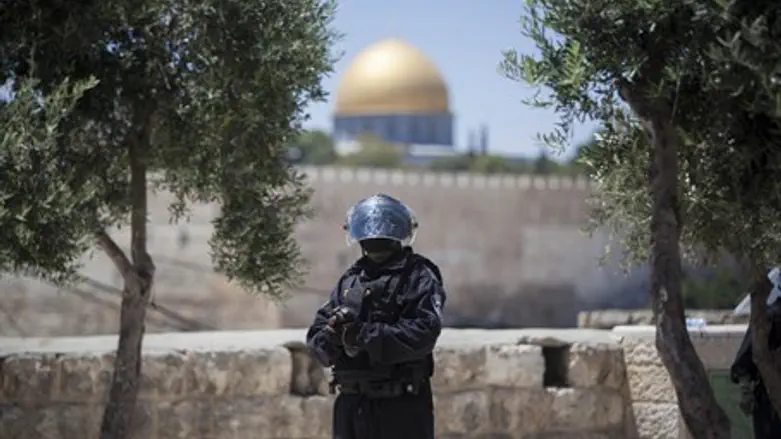 Police officer stands guard near Temple Mount
Yonatan Sindel/Flash 90
Deputy Head of the Islamic Movement in Israel, Sheikh Kamal al-Khatib, demanded that the Palestinian Authority (PA) and its security apparatuses in Ramallah halt security coordination with Israel on Wednesday, to show support for the Al-Aqsa Mosque (Temple Mount - ed.) and the opposition to allowing full religious freedom there as Israel intends to do. 
In an interview with Palestinian media, Khatib said that developments in the Mosque are a sign of serious acts of "occupation" that seek to "Judaize" the city of Jerusalem and to take over the mosque.
He said that Israel benefits from its security cooperation policy with the PA, as they together suppress mass demonstrations and counter "military operations" aimed at supporting the Al-Aqsa Mosque.
The Temple Mount, on which the mosque stands, is the holiest site in Judaism. Arabs have repeatedly tried to erase the Jewish nature of the site, where the First and Second Temples stood, by destroying ancient Jewish artifacts and building illegally. 
Khatib's remarks follow a ban on the "guardians" of the mosque, or mouribaton, who stand sentry at the site. The activists regularly riot on the Mount, curse, shout, and throw various objects at the Jews who ascend the Mount, and sometimes attack police as well.
The cleric has been vocal about barring Jews from the Mount in the past, calling in 2013 for violence after a routine round of Arab rioting on the Mount.