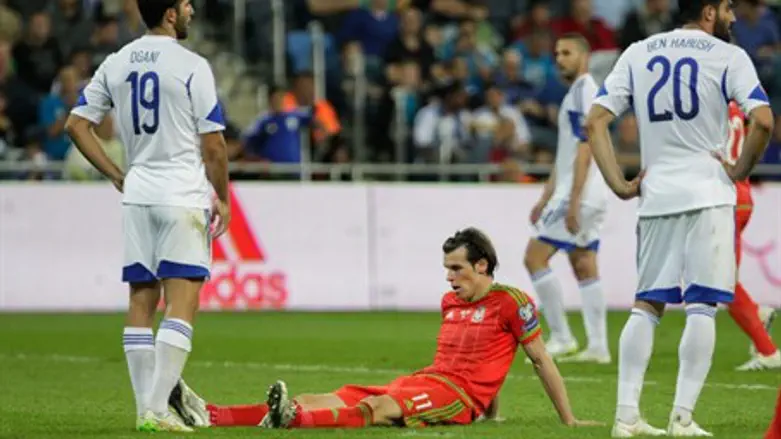 A defeated Bale at Wales-Israel match
Flash 90
A missed free kick by Welsh soccer superstar Gareth Bale in the country's game with Israel on Sunday night has been attributed by British press to the Jewish state's "black magic" and "witchcraft."
Had Bale scored, Wales would have clinched its first qualification for a major tournament since 1958, and the miss left fans "massively frustrated," The Mirror said. 
Footage from the game shows Israeli player Tal Ben Haim making bizarre hand gestures as Bale ran up to kick the ball. British media quickly jumped on the moment with screaming headlines against the 33-year-old athlete. 
"Gareth Bale freekick jinxed by Tal Ben Haim witchcraft," ran The Telegraph's headline, while the 101 Goals Website blamed the "jinxed kick" on Ben Haim's "bizarre magical sorcery."
"Watch Israel's Tal Ben Haim use football WITCHCRAFT on Wales' Gareth Bale," blared The Mirror.
Other articles attributed Bale's failure to score on "a piece of strange sorcery," with some writers even accusing Ben Haim of placing a "curse" on Bale's free kick. 
The match between Israel and Wales for the Euro 2016 soccer qualifier eventually ended in a draw.