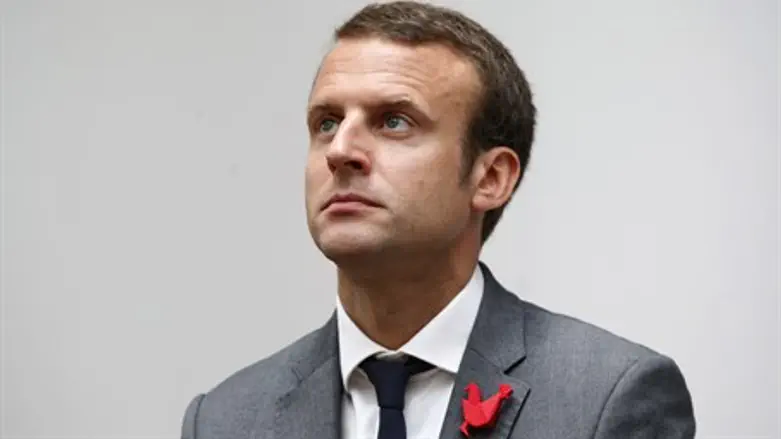 French Economy Minister Emmanuel Macron
Reuters
French Economy Minister Emmanuel Macron said on Sunday that while Paris backs EU plans to label products from Jewish communities in Judea and Samaria, it opposes any boycott of Israel.
"The French and European diplomatic position is clear and has not changed and will not change," he told reporters at the start of a two-day visit to Israel and the Palestinian Authority.  
The labeliing plan has been blasted by Israel which says it is the target of an international delegitimisation campaign.
But Macron was adamant that France opposes campaigns such as that of the Palestinian-led Boycott, Divestment and Sanctions (BDS) campaign, which aims to put political and economic pressure on Israel over its occupation of the Palestinian territories.
"We are against any practice such as that of the BDS," he said.
In April, France and 15 other European Union countries urged the bloc to clearly label products sold in member counties which originated in Israeli communities in Judea, Samaria, the Golan Heights, and parts of Jerusalem liberated in the 1967 Six-Day War.
Haaretz reported on Sunday that Israeli diplomats in European capitals were working to halt or at least slow down the labeling plan, which it said was nearing completion.
Prime Minister Binyamin Netanyahu met Italian Prime Minister Matteo Renzi in Florence last month and is to hold talks with Britain's David Cameron later this week.
The EU has consistently condemned Israeli building in Judea and Samaria, claiming it is illegal and ignoring international legal evidence to the contrary, while simultaneously continuing to invest in territories such as Turkish-occupied Cyprus and Moroccan-occupied Western Sahara.