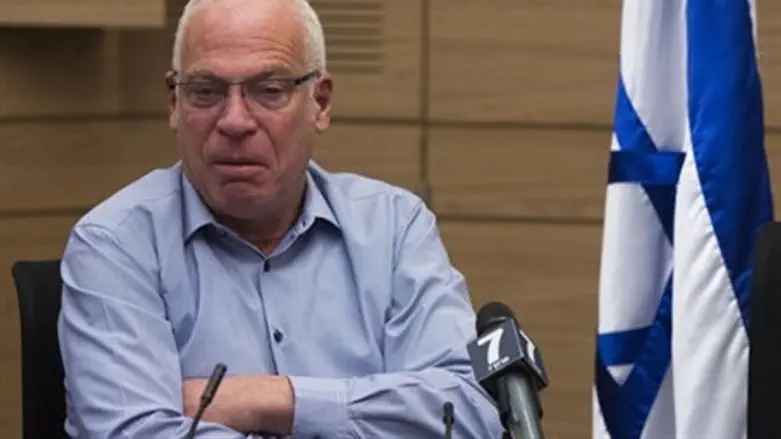 Uri Ariel
Yonatan Sindel / Flash 90
Agriculture Minister MK Uri Ariel (Jewish Home) sharply criticized the reduction of the Value Added Tax (VAT; Israel's sales tax - ed.) on Friday, one day after Prime Minister Binyamin Netanyahu and Finance Minister Moshe Kahlon announced a drop from 18% to 17% for consumers and from 26.5% to 25% for corporations. 
The Agriculture Minister noted that the announcement, while expected by the media, was a surprise to him.
"Like the other members of the government, I was surprised to hear in the media about the sudden reduction in taxes, due to the accumulation of excess taxes in the state treasury," wrote Ariel. "According to estimates, the result of the reduction is the loss of state revenues of about 6.5 billion shekels a year."
"This is your decision, [but it] is not consistent with the data presented to members of the government during the presentation and approval of the state budget for 2015 -2016, in which government departments were required to make cuts to the services provided  to citizens." 

Ariel demanded a re-evaluation of the budget in light of the development.
"Today, after your announcement, I felt that not all data was presented to members of the government when the budget was approved," he said. 
The decision was made following a damning report from the Central Bureau of Statistics (CBS) in August stating that Israel's economy had grown by a mere 0.3% during the second quarter of 2015. To counter this, a drop in VAT is expected to lower market prices and increase consumption. The move will also reverse an increase in VAT in 2013 made to counter a deep deficit. 
Analysts predict that VAT will eventually be raised again, predicting that the total cost of the move will not be able to be replenished entirely by a market upswing. 
(Arutz Sheva's North American desk is keeping you updated until the start of Shabbat in New York. The time posted automatically on all Arutz Sheva articles, however, is Israeli time.)