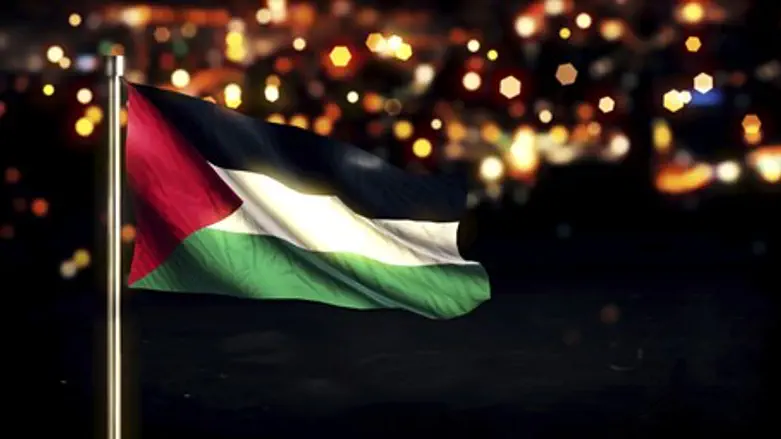 PA flag
Thinkstock
European countries could decide to abstain in next week's vote on a draft resolution on raising the Palestinian flag at the UN, a diplomat told the AFP news agency on Thursday night.
The countries are still discussing the vote, the report added.
Earlier Thursday, the Palestinian Authority (PA) UN envoy, Riyad Mansour, expressed confidence that the resolution would pass in time for PA chairman Mahmoud Abbas's upcoming visit to New York.
"We have the votes and we are working to get as many votes as we can," he said.
Once adopted, the UN will have 20 days to carry out the decision, which would be in time for Abbas's visit on September 30.
Mansour declined to say whether a formal flag-raising ceremony would be held during Abbas's visit, an event that would highlight the Palestinians' aspirations for statehood.
"It is a symbolic thing but it is another step to solidify the pillars of the state of Palestine in the international arena and give our people a small hope that the international community is still supporting the independence of the state of Palestine," Mansour told reporters.
Both the Vatican and "Palestine" have non-member observer status at the United Nations. But while the Vatican has largely supported the PA and even the concept of Palestinian statehood, it has vehemently and repeatedly opposed the PA's inclusion of the Vatican in its fight to have the flag raised in the UN. 
Israel's envoy to the UN this week expressed strong opposition to the initiative, accusing the PA of trying to "score easy and meaningless points at the UN."
Ambassador Ron Prosor had asked UN Secretary-General Ban Ki-moon and General Assembly president Ron Kutesa to block the move, which would break with the UN practice of flying only the flags of member states.
UN spokesman Stephane Dujarric has said Ban would abide by the General Assembly decision.