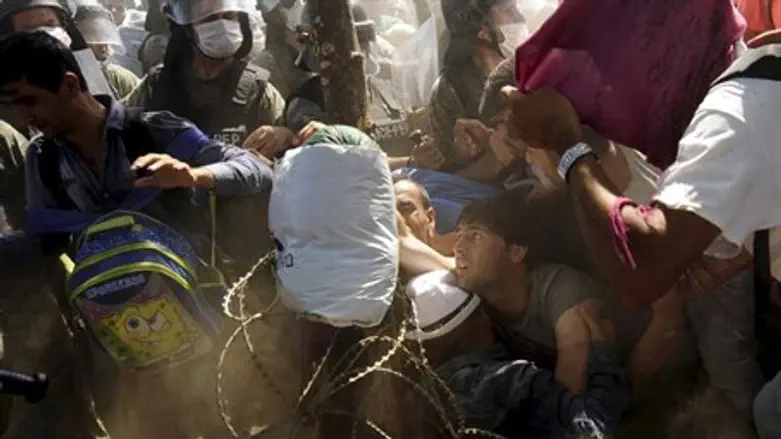 Refugees on Macedonian-Greek border.
Reuters
Faced with a tidal wave of migration from the Middle East and North Africa, Bulgaria and Hungary are looking into the possibility of putting up Israeli steel security fences along parts of their borders, Reutersreported Thursday.
Hungary and Bulgaria have made preliminary inquiries about buying Israeli-designed fences, like the ones along Israel's barrier with Egypt, according to an Israeli business source who declined to be named.
Many of the migrants are refugees seek to pass through the eastern European counties to richer countries further north and west, particularly Germany.
Reuters cited Bulgarian and Hungarian officials who indicated that discussions about security fences were indeed taking place, but the Israeli source said it would take time for any deal to materialize, because of budget constraints and political sensitivities. 
"Fences ... do not send the right message, particularly to our neighbors," European Commission spokeswoman Mina Andreeva told the news agency.
Speaking to Arutz Sheva, former deputy foreign minister Danny Ayalon said Thursday that Europe will have a hard time deporting the refugees that have inundated the continent, much less keep new ones out.
"It's no longer just Africans looking for work, but a wave of refugees seeking to escape from the terror of ISIS and Al Qaeda or other Islamist groups." Those refugees are far more desperate than African workers – because they have nowhere else to go, he explained. As a result, they are much more willing to take great risks to make it to free European countries.