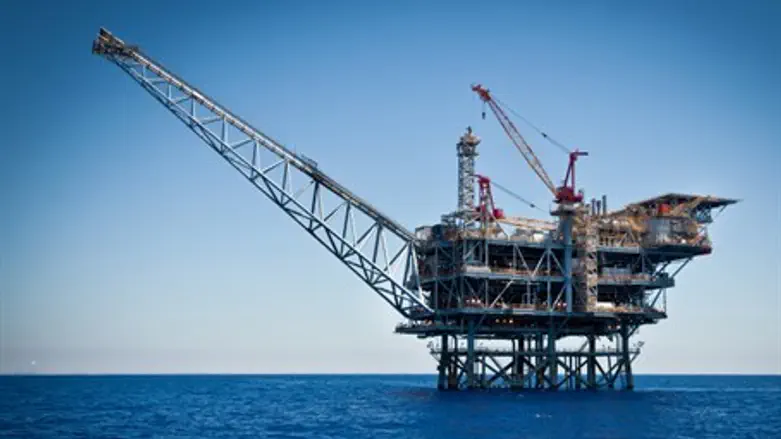 Gas field (illustrative)
Flash90
US firm Noble Energy is threatening to go to arbitration against Israel over a stalled gas deal for a major discovery in the Mediterranean Sea, local media reported Thursday.
Senior Noble executives delivered the ultimatum on the future of the offshore Leviathan field at a meeting with Prime Minister Binyamin Netanyahu this week, according to Maariv. 
It said the firm would pursue international arbitration if a framework deal with Israel laying out parameters for developing Leviathan, among other issues, is not enacted "in the near future." 
Netanyahu's office declined comment when contacted by AFP.
The announcement earlier this week of the discovery in Egyptian waters of natural gas reserves which could far exceed Leviathan's estimated 18.9 trillion cubic feet (535 billion cubic meters) has put further pressure on Israel to quickly conclude a deal.
There has been talk of exporting gas from Leviathan to Egypt.
A consortium including Noble and Israeli firm Delek has produced gas from Tamar field off the Israeli coast since 2013. 
They also teamed up to develop Leviathan, committing to invest $1.5 billion over the next two years under a framework deal approved by Netanyahu's cabinet last month, but which may still face a vote in parliament.
Netanyahu has pushed hard to have the framework deal enacted, but he has faced opposition within Israel from those who have seen the negotiations as overly favoring the energy companies.
A statement released Thursday by Noble made no explicit mention of arbitration but said it would do what was required in order to protect its investment.
"A regulatory framework... has been overwhelmingly approved by the Israeli cabinet," it said.
"It is imperative that the government of Israel follow through on this approved framework without further delay. Noble Energy remains fully prepared, and is well positioned, to take the actions necessary to protect the value of its assets."
Netanyahu has postponed a vote indefinitely and Economy Minister Aryeh Deri (Shas) has not been cooperative in fast-tracking the gas agreement.
Deri has the authority to bypass Israel's antitrust commission but is refusing to do so, saying he prefers to wait for the appointment of a new commissioner. The previous commissioner resigned in May after threatening to declare the Noble-Delek consortium a cartel. 
Israeli business daily Globes said on Thursday that Netanyahu's advisers were considering an administrative manoeuvre to transfer the economy minister's authority on the matter to the cabinet as a whole.