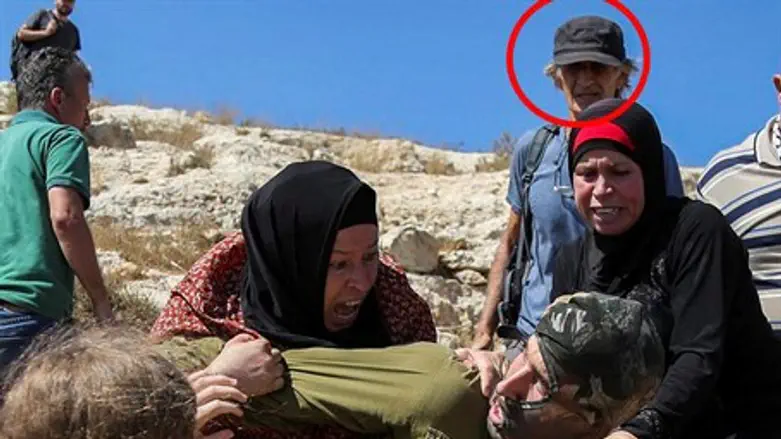 Herzl Schubert (in red circle)
Flash 90
Soldier under attack: Schubert in red circle.
Flash 90
Dr. Ronen Shoval, Chairman of Professors for a Strong Israel, said Tuesday that unlike other nationalists, he does not think Herzl Schubert, the leftist who regularly takes part in the Arab rioting at Nabi Salah, should be fired from his teaching position at ORT high school in Ramat Gan. He should, however, be put on trial for assisting in illegal actions, according to Shoval.
"Although I would not want a teacher l ike that to teach my children, I don't think he should be fired," Shoval elaborated. "On the other hand, I don't think he should be fired. Herzl Schubert should sit in jail for assistance in harming IDF soldiers. Not for his views."
A group of parents of pupils at Ramat Gan's ORT-Avin High School demanded Sunday that the school fire history teacher Herzl Schubert, after they spotted him taking part in the video documenting a recent violent riot at Nabi Salah, in Samaria, in which a group of women and children violently mobbed an IDF soldier.
The parents said that while Schubert did not attack the soldier himself, he did not try to help him, either.
"In 1950," Shoval explained, "David Ben Gurion tried to prevent Yisrael Eldad – the man who translated the writings of Nietzsche, the ideologue and intellectual of the Lechi underground – from being employed as a teacher. Eldad petitioned the High Court and won. The high Court ordered the Ministry of Education to refrain from intervening, because by doing so it would 'make a mockery of the law,' since the law does not say that a teacher can be fired for his preaching."
"If the teacher did not break the law," opined Shoval, "the ORT network would do well to keep him on as a professional teacher, but the parents have an obligation to make clear to the high school management that they object to having a violent inciter educate their children."
"If the teacher broke the law, the Attorney General would do well to put him on trial. Since Herzl Schubert apparently assisted in causing harm to IDF soldiers, he belongs in jail. From jail, he will be able teach and educate only his friends, the security prisoners."
Schubert is the man wearing a faded blue T-shirt and blue baseball cap, who can be seen in the photo above, looking on as the soldier is attacked. He can also be seen in the accompanying video, which was shot and disseminated by Arabs, motioning at the soldiers and being pushed by another at about the 7:45 mark.
The ORT chain has said that is considering the appeal.
"We did, indeed, receive a complaint about the teacher's activity," the chain said. "This is an event that took place outside the work hours and without any connection to the school's activities. The matter is currently being looked into, and we are receiving instructions from the Ministry of Education."
In other videos from previous Nabi Salah disturbances, Schubert is seen shouting at soldiers, telling them that they are committing crimes, and boasting that he is a high school teacher and an employee of the Ministry of Education.