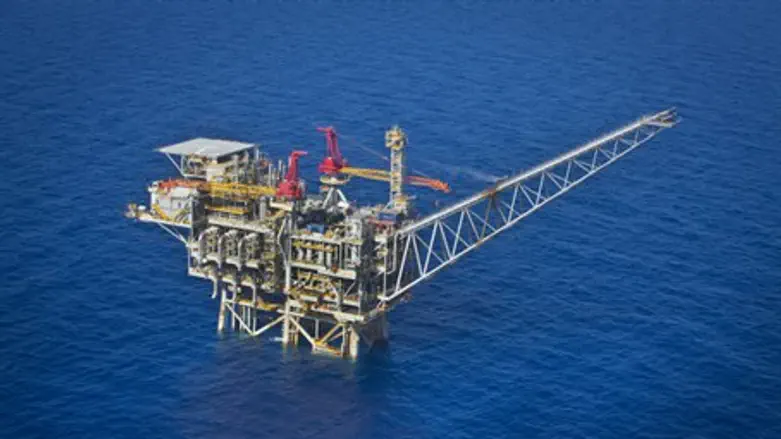 Israeli Tamar gas rig
Flash 90
Will Islamist radicals attempt to derail development of a huge gas field off Egypt's shores? On Monday, a report said that the Tripoli headquarters of the company that announced the find – Eni SpA – was badly damaged when a car bomb went off in front of the building.
There were no injuries, but the first floor of the building was badly damaged, witnesses said.
On Sunday, Eni said that it had discovered the "biggest ever" Mediterranean natural gas deposit. According to the company, the find could provide as much as 30 trillion cubic feet (tcf) of gas in an area of 100 square kilometers (38.6 square miles). Called Zohr, the field, the company said in a statement, is "is the largest gas discovery ever made in Egypt and in the Mediterranean Sea and could become one of the world's largest natural gas finds."
By contrast, Israel's Leviathan field, until now the largest field in the Mediterranean, has 22 tcf of proven reserves. The other large Israeli gas field, Tamar, has 10 tcf, but both fields may be larger than that, geologists said. Eni did not say how much of the Egyptian find has been proven yet.
The Egyptian government has not yet commented on the announcement. However, the government is very cognizant of the fact that Islamists are seeking to ruin its economy. Years of terror attacks in Sinai by Islamist groups have destroyed the tourism industry there, and Islamists have killed dozens of Egyptian police and soldiers in Sinai. Tourists have also been avoiding Cairo and the area of the Pyramids, out of fear of attacks.
Until now, tourism was one of Egypt's biggest industries, but with the gas find, natural gas has the potential to be a big business in Egypt as well, according to gas industry pundits.