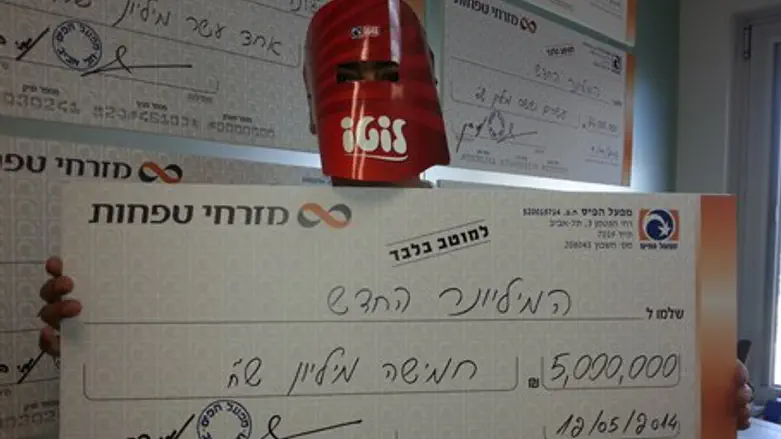 A big lottery winner shows off his check
David Ohana
While many Israelis with a right-wing political perspective believe that large amounts of their tax money go to support left-leaning cultural institutions, new numbers released Sunday by the Central Bureau of Statistics showed that it is Israelis themselves who are supporting these institutions. In 2014, some NIS 52.3 billion ($14 billion) was spent on "cultural needs" - with 85% of that money coming from the pockets of Israelis.
Government expenditures accounted for just 4% of culture costs, with the balance coming from private foundations and organizations.
"Cultural expenses," as far as the government is concerned, means costs for all activities that take place on a voluntary basis outside work or school hours, and includes activities as diverse as exercising in a gym to going to movies to reading books. According to the statistics, that latter category is a fast-shrinking activity among Israelis. Only 5.5% of Israelis visit libraries on a regular basis, while just 3.5% went to museums and archaeological sites. A mere 0.7% visited an art gallery last year.
Far more popular than reading among Israelis is music – with 20.6% of cultural expenses going to purchase music, musical instruments, concert tickets, and other music-related activities. Following closely behind were sports activities, either viewed or participated in, which consumed 17.5% of expenses. Twelve percent of cultural costs paid for memberships and activities at community centers, including swimming pool memberships, while nine percent of it went to pay for computers and Internet connection costs.
A surprisingly popular activity among Israelis is gambling - the legal kind, with 7% of funds going to play lotto and similar state-sponsored games of chance. That was even more popular than movies, which consumed just 4% of the culture budget.