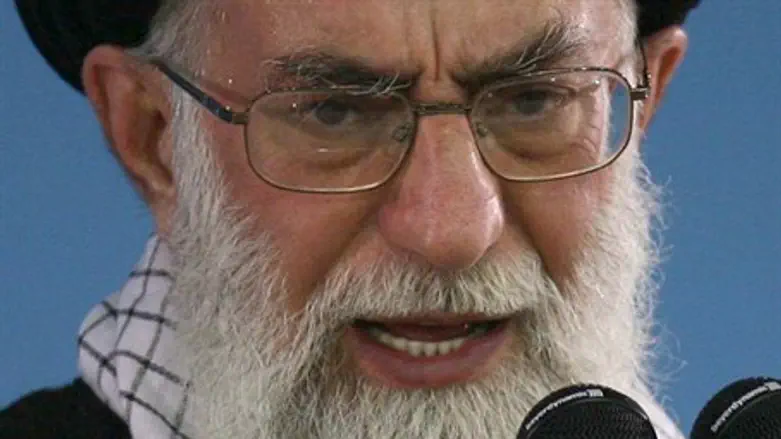 Ayatollah Ali Khamenei
Reuters
Iran is continuing its verbal attacks on Israel, with the latest remarks coming on Saturday by a close aide to the Islamic Republic's Supreme Leader, Ayatollah Ali Khamenei.
The aide, Seyed Mahmoud Nabavi, was replying to British Foreign Secretary Phillip Hammond's recent remarks that Tehran has changed its policy on Israel, and underlined that fighting the "Zionist regime" is Iran's everlasting policy.
"Fight against the illegal Zionist regime is one of the immutable policies of Iran which has always been maintained," Nabavi told the semi-official Fars news agency.
He blasted Hammond's comments and said, "Such words are incorrect since one of the driving goals of the Islamic Revolution has been campaign against the arrogant powers."
"We haven't recognized the Zionist regime since the beginning of the Islamic Revolution and such a policy will continue," Nabavi stressed.
Hammond comments last Sunday came as he reopened the British embassy, four years after it was ransacked by an Iranian mob, forcing its closure.
Nabavi's dismissal of the comments marks the third time that an Iranian official has commented on Hammond's remarks since they were made.
Iran's Foreign Ministry on Wednesday stressed that the "Zionist regime" had no place in diplomatic talks between Tehran and London.
"We have rejected such media hype (before) and during Mr. Hammond's trip to Iran, we just discussed potentials of bilateral relations, fighting extremism and terrorism, etc.," said Foreign Ministry Spokeswoman Marziyeh Afkham.
"There were no talks on the Zionist regime and the report that Iran has changed its position is denied," she stressed.
A day earlier, the Iranian Parliament Speaker's Adviser for International Affairs Hossein Sheikholeslam blasted Hammond for what Fars described as his "interfering" remarks, and said Tehran's positions against Israel have not changed at all.
"Our positions against the usurper Zionist regime have not changed at all; Israel should be annihilated and this is our ultimate slogan," Sheikholeslam told reporters in Tehran.
Despite the nuclear deal that was signed between Iran and the West, Khamenei has continued to bash Israel and the United States.
Recently, Khamenei went so far as to publish a new book on the topic of outwitting the United States and destroying Israel.