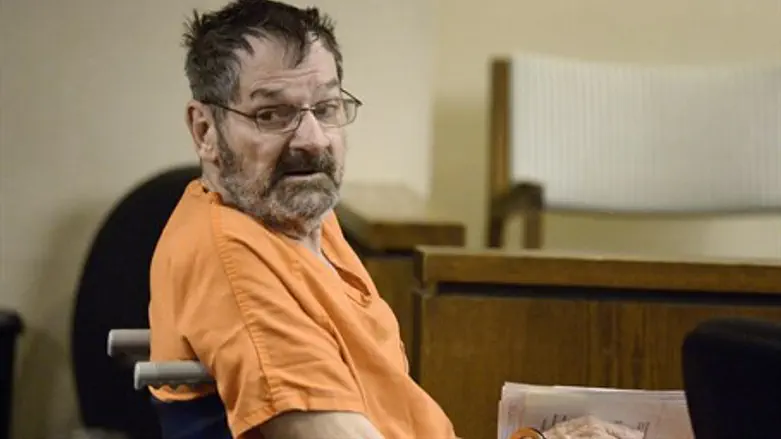 Frazier Glenn Miller
Reuters
Frazier Glenn Cross, the white supremacist charged with killing three people outside two Jewish centers in Kansas last year, on Friday asked a jury to find him not guilty because he was acting on the belief that Jews have "too much power" and must be stopped, Reuters reported. 
The 74-year-old Cross, a former senior member of the Ku Klux Klan who is representing himself at trial, could be sentenced to death if convicted in the April 2014 shootings in Overland Park, Kansas. 
He also is charged with the attempted murder of three others. Cross has pleaded not guilty to all the charges. 
Cross admitted to jurors on Friday that he killed a man, woman and teenage boy and tried to kill more people during a shooting spree on the eve of the Jewish Passover holiday. None of the victims were Jewish but Cross he did not know that at the time. 
He said he believes Jews have committed genocide against white people, and control both the media and Wall Street to the detriment of white Americans. 
"I had no criminal intent, I had a patriotic intent to stop genocide against my people," said Cross, who is also known as Glenn Miller, according to Reuters. 
According to the news agency, Cross said that in the days before committing the murders he researched what he sees as the demise of the white race and decided he had to take action.
"I hate Jews," Cross said. "They are the ones who destroy us." 
If convicted, the second phase of the trial next week will determine if he should be executed. 
In an interview last November, Miller expressed his surprise and regret at not having managed to kill any Jews.
"I was convinced I was dying then," he told The Kansas City Star, recalling the moment he was admitted to a hospital with breathing difficulties. "I wanted to make damned sure I killed some Jews or attacked the Jews before I died."
(Arutz Sheva's North American desk is keeping you updated until the start of Shabbat in New York. The time posted automatically on all Arutz Sheva articles, however, is Israeli time.)