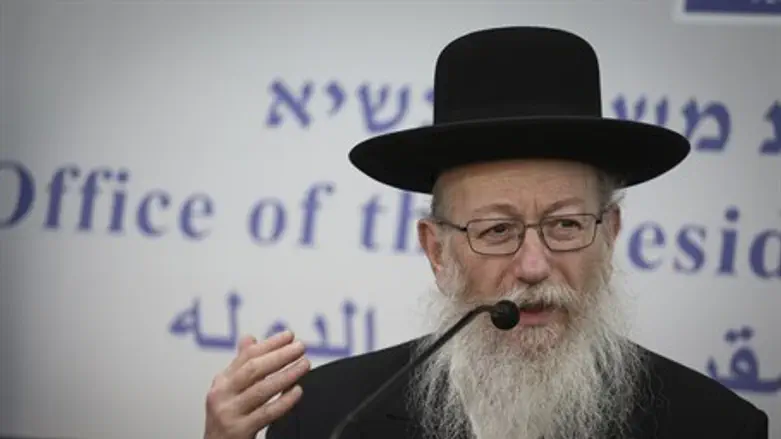 UTJ MK Yaakov Litzman
Hadas Parush/Flash 90
Yaakov Litzman will officially take on the position of Israel's Health Minister – a job he has been doing for the past several years in the current and previous governments of Binyamin Netanyahu, if not under that title.
Litzman said Thursday he was prepared to accept the High Court's ruling and take the position, after his acceptance of the position was approved by the Council of Torah Sages, the rabbinical body that directs the actions of Litzman's United Torah Judaism party.
Earlier this month, the High Court ruled that the government needed to appoint a Health Minister within sixty days, because the official Health Minister, Binyamin Netanyahu, was already Prime Minister, Minister for Regional Development, and Foreign Minister.
Although there was no shortage of candidates for the posts, Netanyahu did not appoint anyone from his coalition to them, preferring to hold the posts themselves – as a "placeholder," with the Deputy Minister of each ministry doing the actual day to day work.
Netanyahu is believed to be holding the posts in the event that either the Zionist Union or Yisrael Beytenu will join his government, in which case Netanyahu will appoint members of those parties to the posts.
The demand that Netanyahu resign as Health Minister was initiated in the High Court by Yesh Atid, which apparently believed that Litzman would refuse to accept the ministry post, given UTJ's general reluctance to allow its members to serve in a ministerial capacity.
It should be noted, however, that Litzman is not the first member of an Ashkenazi haredi party to serve as a minister; during the 1950s, Yizhak Meir Levin – like Litzman, a Gerrer Hassid – was Israel's Welfare Minister during the country's first three governments.
Litzman said Thursday that "as in the past, I will continue to serve the citizens of Israel. As far as I am concerned, a deputy minister acting in a ministerial capacity is no different than a minister." 
"I remain committed to advancing the health of all Israelis, and I will continue to work exactly as I did before."