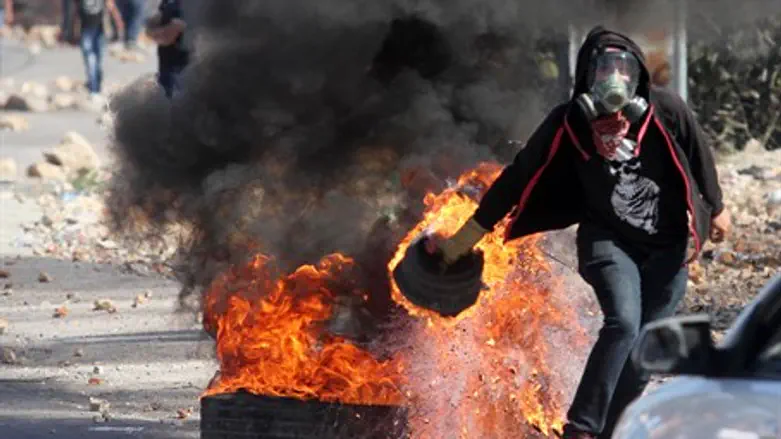 Arab rioter near Ramallah
STR/Flash 90
Fifteen years after the infamous "Ramallah lynching," in which Arabs brutally murdered two IDF soldiers, a military court has decided that that one of its participants isn't a murderer, after all.
 Marwan Ma'adi was convicted on Thursday of assault for his role in the murders, after his attorney successfully argued that Ma'adi "could not predict the final results of the spontaneous action he participated in."
In the midst of the second Intifada on October 10, 2000, two IDF reserve soldiers, Yosef Avrahami and Vadim Nurzhitz who lost their way found themselves in Ramallah, where they were murdered and mutilated in a Palestinian Police station.
The soldiers were beaten, stabbed, had their eyes gouged out, and were disemboweled.
Since the incident, the IDF has been hunting down those who participated in the lynching, with several sentenced to long prison terms
For example, Aziz Salha, the murderer who appeared at the window of the police station displaying his bloody hands to a cheering crowd, was arrested in 2001 and sentenced to life in prison. He was among the terrorists released in the Gilad Shalit prisoner swap deal in 2011.
Ma'adi, a member of Hamas, was arrested in 2012 and admitted participating in the lynch. It was on that basis that the army sought to imprison him for a long-term sentence as well – if not on charges of murder, then on charges of being an accessory to murder.
However, his attorney, I'ad Mahmid, claimed that the IDF could not prove that his client was part of the lynch.
According to Mahmid, Ma'adi acted "independently and spontaneously," and any actions he took needed to be seen as distinct from the organized lynch, as he could not have foreseen the consequences of the actions of the larger group nor be held responsible for them.
In their decision, the military court judges said that while it was a difficult decision, they felt they had no choice but to agree with the defense, because the army had failed to show specific actions undertaken by Ma'adi that contributed to the soldiers' deaths.
The court said it would decide on a sentence for the reduced charge of assault in the coming weeks.