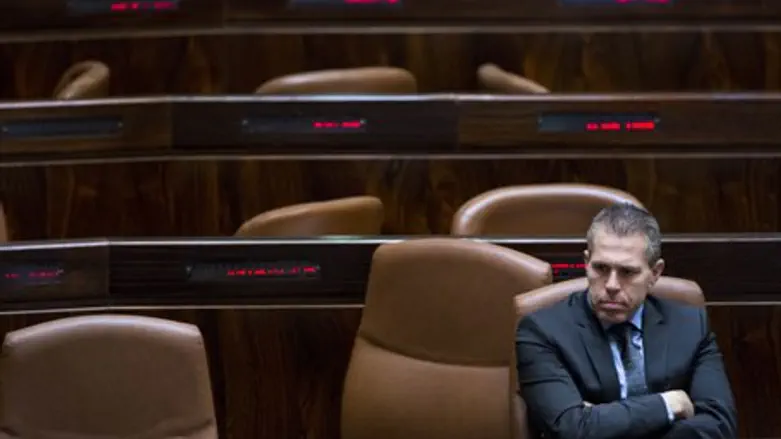 Internal Security Minister Gilad Erdan
Yonatan Sindel/Flash90
The Internal Security Ministry reacted angrily to the attempts of several former police commissioners to block the planned appointment of Brig. Gen. Gal Hirsch to the position. 
Five former police commissioners as well as some 30 former police major generals gathered in Tel Aviv on Wednesday night blasting Hirsch as an "unsuitable" candidate and accusing Internal Security Minister Gilad Erdan of having "no clue about the police."
A senior source in the Internal Security Ministry told Walla! News it was "very puzzling that former major generals and police commissioners are holding an emergency meeting to intervene with a legal authority's appointment of a commissioner."
"This forum never once held an emergency meeting when seven major police generals were forced to retire from the police because of corruption, lack of integrity and sexual harassment," the source added. 
"It's very sad that some of the senior members of the police are involved in this, considering some of them are responsible for the organization's situation today." 
As a result of the scandals the Israel Police has long been steeped in, Erdan felt it best to appoint someone from outside the police. That, however, is a likely sore spot for the former commissioners. 
Several junior officers as well police station commanders, however, have expressed support for the appointment of a former IDF officer. 
"It's time someone comes from the outside," the commander of a precinct in central Israel told Walla! News. "This organization needs a serious jolt and a commander from outside will bring a different perspective." 
After the scandals they experienced, and the public image butchering, "this is what junior officers need," the commander said, noting that the "chain of command is excellent and professional" among young officers.