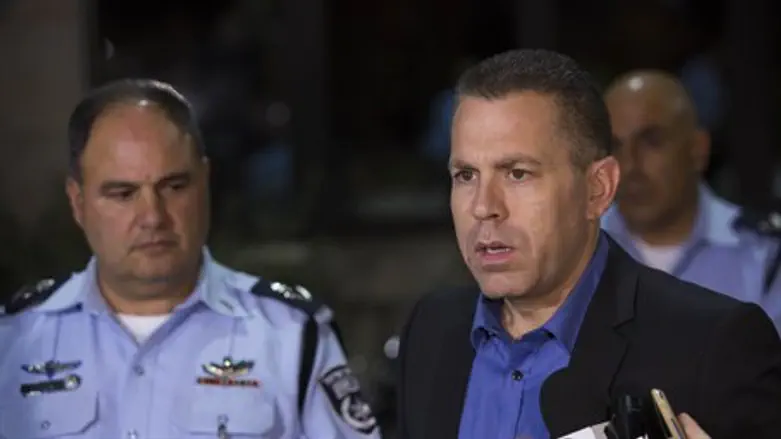 Erdan announced Hirsch appointment
Yonatan Sindel / Flash 90
Five former police commissioners as well as some 30 former police major generals gathered in Tel Aviv on Wednesday night to brainstorm how to thwart Gal Hirsch's recent appointment as police commissioner. 
The families of soldiers slain in the Second Lebanon War of 2006 also plan to hold a protest against Brig. Gen. Hirsch's appointment to the position. 
Hirsch commanded the Galilee Division during the Second Lebanon War and resigned from the IDF in the wake of criticism heaped upon him by the Almog Committee that investigated the war's handling.
In addition to anger from bereaved parents, Internal Security Minister Gilad Erdan's choice of Hirsch has also drawn ire from current and senior police officers who have wasted no time in blasting the decision. 
Among those meeting in Tel Aviv on Wednesday were former police commissioners Shlomo Aharonishki, Moshe Karadi, Yaakov Terner, Yehuda Wilk and Assaf Hefetz, as well as former police major generals Zeev Even-Chen, Arieh Amit, Ilan Franco, David Tsur, Yaacov Ganot, Yaakov Raz and Yossi Sedbon.
Amit told Haaretz before the meeting that its purpose was "to make operative decisions in order to to do things, and not just talk."
"In my opinion, he would be a police commissioner unsuited to the job," Amit continued. "I didn't sleep last night for worry. The internal Security Minister's decision to choose him for the job is simply delusional.
"In my opinion, the minister simply has no clue about the police," he added. "It can't be that he would parachute a person who doesn't know the police into this job."
The former major general was backed up by Wilk, who asserted to Channel 2 that "a minister who would appoint this kind of commissioner simply doesn't understand police work."
"This is a disgrace that we don't understand. I don't even give him two months in the job. I know politics, I've been there, but I've never seen something like this before. It's an embarrassment and a shame," another former police major general added.