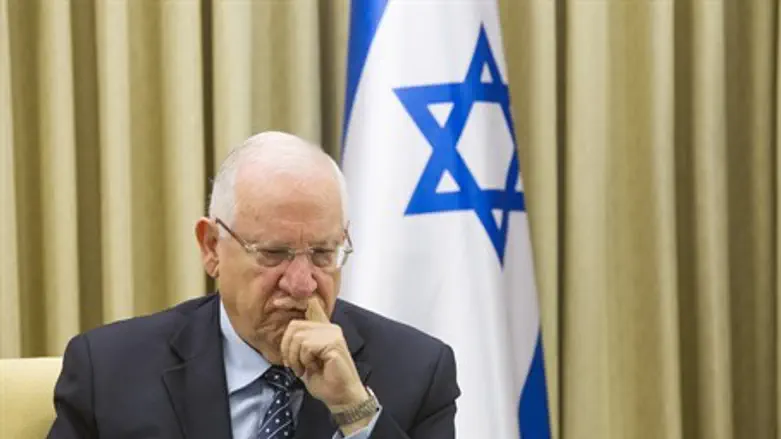 President Reuven Rivlin
Miriam Alster/Flash 90
President Reuven Rivlin praised on Wednesday the decision to appoint Gal Hirsch as the Israel Police's new commissioner amid a wave of outrage over the appointment. 
Hirsch commanded the Galilee Division in the Second Lebanon War and resigned from the IDF in the wake of criticism heaped upon him by the Almog Committee that investigated the war's handling.
The bereaved parents of several soldiers killed in that war have stated that they hold Hirsch directly responsible for their sons' deaths and have called on Prime Minister Binyamin Netanyahu to cancel his appointment.
Rivlin, however, urged the Israeli public to show Hirsch support especially in light of the challenges facing the Israel Police.
"We need a police commissioner quickly and a police force that is being managed," Rivlin told Channel 2. "We must back the man who was chosen because his success is our success."
The police protects us "and gives us the ability to live normal lives... it defends us, provides law and order and we must give it support."
Hirsch was appointed to the top police position on Tuesday by Internal Security Minister Gilad Erdan (Likud), who voiced confidence that Hirsch's experience and skill make him perfect for overhauling a police force reeling from corruption and incompetence scandals.
"Gal Hirsch is an excellent and valuable officer who enacted changes and reforms in every unit he led," Erdan said. "I am convinced that Gal is the most suitable candidate at this time to lead the necessary changes in the Israel Police and to strengthen (public) trust in it."
Erdan dismissed criticism over Hirsch's appointment on Wednesday, noting that even the Federal Bureau Investigation (FBI) in the US has brought in outsiders to take control during a crisis.