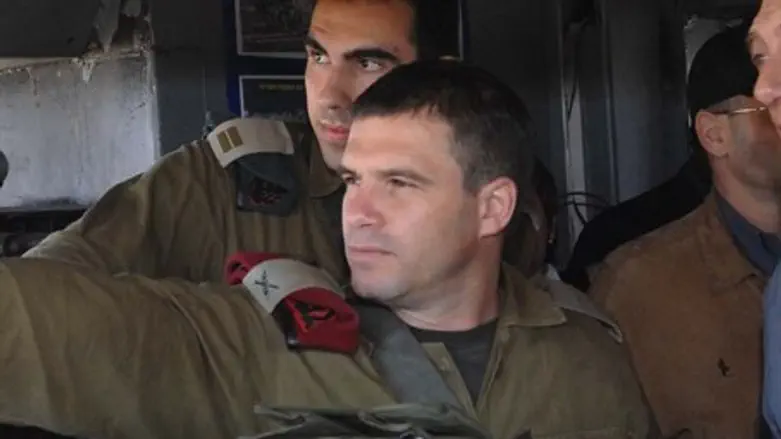 Gal Hirsch
Moshe Milner/Flash 90 /GPO
Internal Security Minister Gilad Erdan announced his choice for Israel's new police chief: IDF Brigadier General (Ret) Gal Hirsch.
The announcement comes two months after the previous Israel Police Chief, Yohanan Danino, stepped down amid a tide of corruption scandals wracking the force.
51-year-old Hirsch grew up in the southern city of Arad, and is married with three daughters. He received a bachelors degree in Middle East studies from Bar Ilan Univeristy, and a masters in Business Administration from Tel Aviv University.
Hirsch currently heads the Institute for Future Leadership in Israel, and s CEO of the Defensive-Shield Holdings company.
During his time in the IDF he served in the elite unit (sayeret) of the Paratroopers Brigade for two years, before enlisting in IDF Officers' School, where he graduated with distinction.
Among his other roles, Hirsch commanded Paratroopers Brigade 202, as well as the elite Shaldag Air Force Commando unit. He also served as commander of the Binyamin region and the Bahad 1 officers' school.
Hirsch received several awards during his IDF service.
Internal Security Minister Erdan voiced confidence that Hirsch's experience and skills make him perfect for the task at hand in overhauling a police force reeling from corruption and incompetence scandals.
"Gal Hirsch is an excellent and valuable officer who enacted changes and reforms in every unit he led," Erdan said in a statement announcing his appointment. "I am convinced that Gal is the most suitable candidate at this time to lead the necessary changes in the Israel Police and to strengthen (public) trust in it."