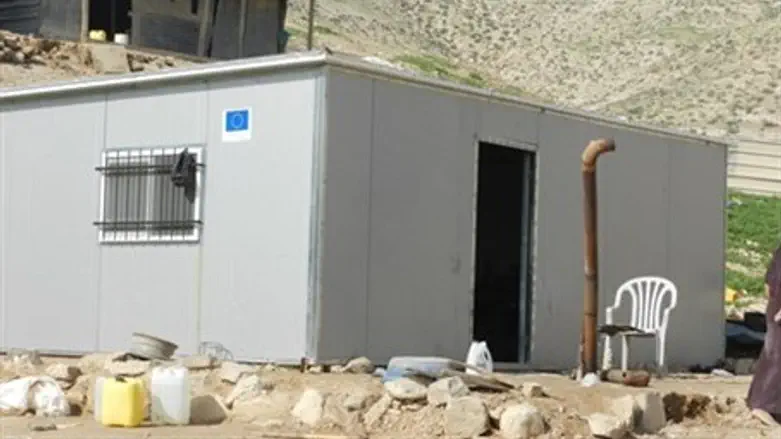 EU outpost
Yaniv Aharoni
Jewish land rights group Regavim and the community of Kfar Adumim filed a motion to the High Court Monday in an attempt to halt illegal construction of structures by the European Union in Judea and Samaria.
In recent years, foreign diplomatic elements – and most prominently, the EU – have been heavily involved in building illegal outposts in areas designated under "Area C" in the Oslo Accords. This is especially true in the Gush Adumim area east of Jerusalem.
Despite numerous requests to the Defense Ministry and the IDF Civil Administration, the illegal construction continues unabated and serious enforcement is nowhere to be seen.
In their motion, Regavim and Kfar Adumim ask the court to tell the prime minister and defense minister to explain why they are not enforcing the law against the EU's illegal construction in areas that are under full Israeli control – both civilian and military.
The motion details the situation on the ground, in which the EU supplies the local Arabs with hundreds of permanent structures that are placed illegally on state lands, with the aim of helping the Arabs take over land that does not belong to them and to act in contravention of local and international law.
The petitioners want to court to issue temporary orders to block the EU's activities.
They also want the prime minister and defense minister to explain why they are not taking steps to immediately tear down the EU buildings.
A recent Regavim report detailed the EU's construction of hundreds of structures in Areas C. It found that the EU had invested tens of millions of euros in the construction.