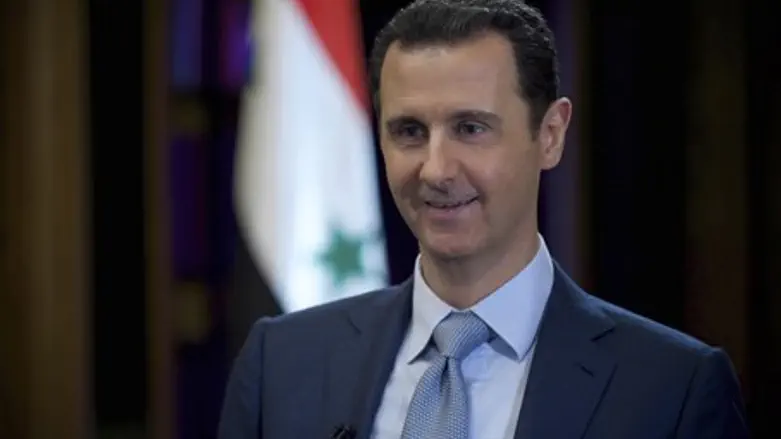 Syrian President Bashar Al-Assad
Reuters
Syrian President Bashar Al-Assad said on Monday that fighting the "terrorists" in his country takes precedence to fighting Israel. "Terrorists" is the term the Syrian president routinely uses to describe the anti-regime rebels trying to topple him.
Speaking in an interview with Hezbollah's Al Manar television, Assad hinted that Syria would not retaliate for last week's Israeli airstrikes in Syria, which came after rockets from Syrian territory were fired onto the Israeli side of the Golan Heights.
"There are Syrian groups that work with the enemy - Israel and other enemies, and call on it to intervene in Syria," Assad told the network, according to a translation on the Hebrew-language Walla! news website.
"Therefore, the tools used by Israel (to intervene in Syria), which are more important that the latest aggression, are the terrorists in the country," he continued.
"The actions of the terrorist organizations are more dangerous than what Israel did recently to support them," the Syrian president claimed. "If we want to deal with Israel we must first deal with the tools that it uses in Syria."
Assad further said that the situation in Syria is similar to the one in Lebanon in recent decades when, according to him, elements within the country collaborated with Israel.
The comments come four days after the rocket attack on the Golan Heights from Syria, which Israel said was directed by a senior commander in Iran's Revolutionary Guards.
Overnight Thursday, following the rocket fire, the IDF struck 14 targets in Syria. On Friday morning, the army announced that it had eliminated the Islamic Jihad terrorist cell that launched the four rockets from Syria.
Defense Minister Moshe Ya'alon said Thursday night the rocket fire "was carried out by a terrorist cell of the Islamic Jihad, operated, funded and armed by Iran. The shooting took place from territory controlled by the [Bashar Al-]Assad regime, which allows terrorist activity against Israel, and we consider it responsible."
Ya'alon also warned that the rocket attack was only the "promo" to what Iran would do once the sanctions on it are lifted as part of the nuclear agreement.